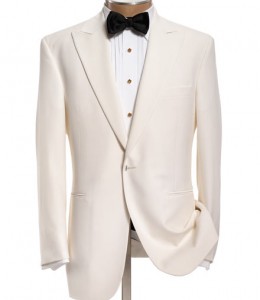 Guide to Warm Weather Black Tie
If you are being invited to a formal black tie event during a hot summer day then you may want to familiarize yourself with so called "Warm Weather Black Tie" option. Classic black tie attire consists of a classic black or midnight blue tux, matching waistcoat, a classic white dress shirt, and formal black bow tie. It is an outfit that, although very classy and elegant, will be quite uncomfortable in warm weather. If you want (or are required) to adhere to a strict black tie ensemble but also seek comfort then warm weather black tie will be perfect.
Warm Weather Black Tie 101
The only, or at least most noticeable difference to classic black tie is a white dinner jacket instead of a black tux. The pants and bow tie stay black and the shoes are also the same elegant black patent leather or polished black calfskin kind that you wear for nighttime black tie functions. White is the most common color on the "warm weather black tie" dinner jacket although cream and ivory are equally acceptable. These white jackets come almost exclusively single breasted since double breasted cuts add too much thickness and warmth for s hot summer day.
Accessories for Warm Weather Black Tie
While some accessories such as button studs and cufflinks are the same to classic back tie, there are some options that are unique to the summer black tie ensemble. The pocket square for instance can be black instead of white to set a nice contrast to the white jacket. Also, waistcoats are usually not worn for warm weather black tie since the additional waist covering would be unsuited for warm climates. Instead you will have the choice of either wearing a slightly thinner black cummerbund or silk sash, or leaving it off altogether and wearing suspenders or a formal belt instead.
Additional Advice for Comfort
The tips above will give you a basic idea on warm weather black tie, but there are few more pieces of advice that will offer cool comfort on even the hottest summer day. Most important is the fabric. Choose clothing items that are only made from natural fibers such as wool, cotton, silk, cashmere, and linen. All these will be much more breathable and allow moisture to wick away from your body – something you will learn to appreciate should there be any dancing. Also choose garments that are made from a light weight fabric.
Finally, there are a few styles that will be more comfortable in warm weather. I already mentioned that jackets should be single breasted and waistcoats should be replaced with cummerbunds. In addition, I recommend formal dress shirt made with a classic turn-down collar. Wing-tip collars usually are stiffened using heavy starch which will be quite uncomfortable during a hot day.
You May Also Want to Read:
My Guide on How to Tie a Bow Tie
My Dress Shirt Collar Guide
Thanks for visiting my site and blog!
Hendrik