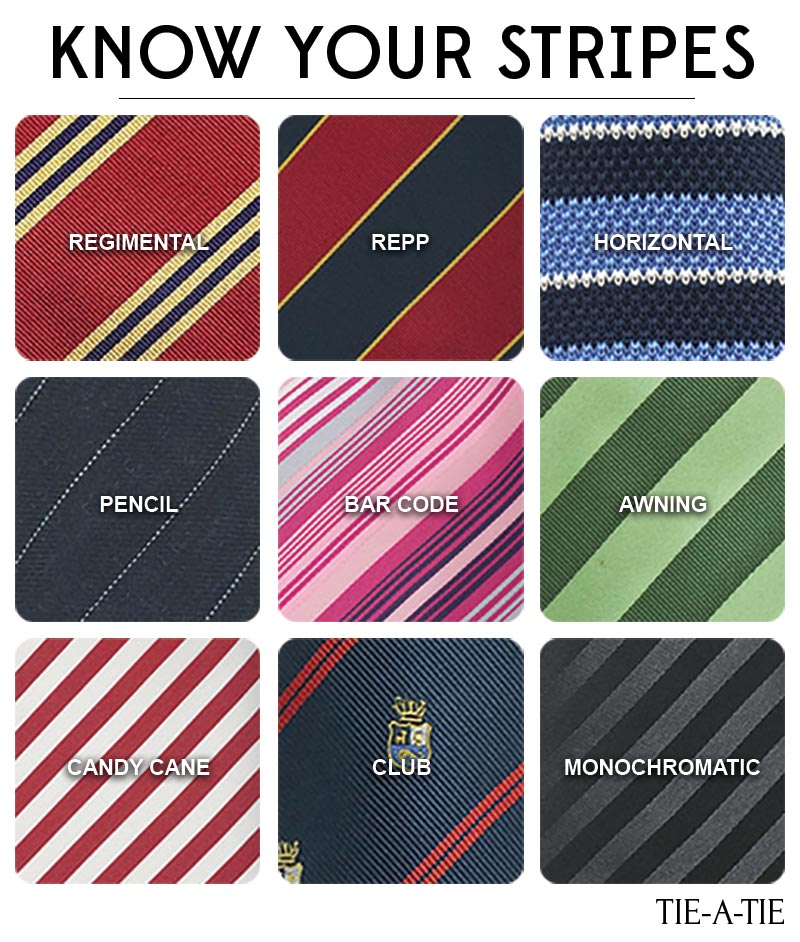 Seriously, who cares about the name of the stripe on your tie? It is true, while the name may not matter a whole lot, and knowing such probably won't make for a good pick up line either, knowing how to wear a particular stripe does indeed matter. It matters a whole lot in fact simply because certain stripes are better suited for certain occasions and look better with a certain type of dress shirt. To understand when and when not to wear a certain striped tie, here is all you need to know:
Regimental Striped Ties
Key: Ribbed Texture, "Regimental" Colors, Stripe runs bottom left to top right
Best for: Navy Blazers, Tweed Sport Coats, Button Down Collar Shirts
Avoid: When too skinny (under 2.5″), avoid non traditional colors
Repp Striped Ties
Key: Ribbed Texture, Matte Sheen, Stripe runs top left to bottom right
Best for: narrow ties (2.5″ – 3.1″ in width), worn with a tie bar/clip
Avoid: More than 3 colors are present in design
Horizontal Stripes
Key: Stripe runs vertically
Best for: Knitted Ties, Ties with Square Tip
Avoid: Ties wider than 3″
Pencil Stripes
Key: Narrow diagonal stripes, stripes narrower than 1/8″
Best for: Always a great pick
Avoid: When worn with pin striped shirt, more than 2 colors present on the tie
Bar Code Stripe
Key: Lots of narrow stripes in various sizes and colors
Best for: Colorful combinations in Summer and Spring
Avoid: When wearing a striped shirt
Awning Stripes
Key: Stripes spaced evenly apart 1/2 – 1 inch wide
Best for: Summer colors, Pair with narrow striped or tattersall check shirts
Avoid: For formal evening dress
Candy Cane Stripes
Key: 2 colors, stripes 1/8″ – 1/4″ wide and spaced evenly apart
Best for: Strong contrasting color combination on the tie (light and dark)
Avoid: When wearing a striped shirt
Club Striped Ties
Key: Repp stripes with woven crests in between
Best for: Skinny ties and preppy outfits
Avoid: When too bright in color
Monochromatic Striped Ties
Key: Stripe design all in one single color
Best for: Formal events, easy to match to any shirt pattern
Avoid: When not wearing a suit
Other Suggested Articles:
Guide to Check Patterns
Learn the History of the Necktie
Thanks for reading!
Hendrik
Tie Aficionado
Owner of Tie-a-Tie.net