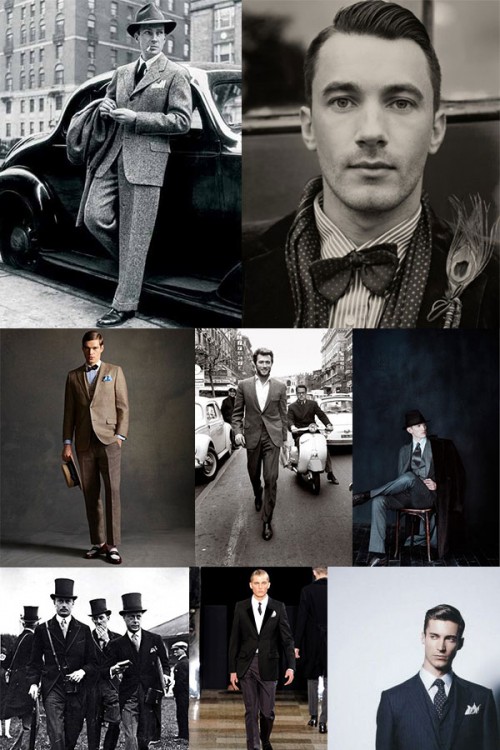 This post was inspired by my own wedding, which took place in a rustic boat house just two weeks ago. The dress code was "Black Tie" but, being a tie aficionado and somewhat of a style snob, I wanted an ensemble a bit more unusual than the "Cookie Cutter look" – the kind you find displayed at Mens Warehouse and other style-soul-crushing tuxedo rentals. I wanted something a bit more unique, while at the same time still honoring this timeless dress code.
Vintage Inspiration:
I have always been a fan of men's style pieces from past decades, especially those found in the 1920s as well as in the 1950s (you may also want to check out my recent post on the History of the Necktie for more information on this). That being said, here are five perfect accessories for your black tie attire, borrowed from decades past:
1. The Silk Scarf (aka Opera Scarf)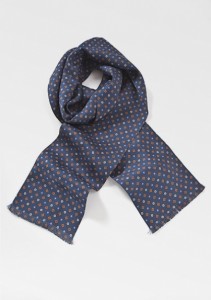 While the traditionalist would insist on an either white or ivory scarf for his black tie ensemble, personally I am a big fan of wearing a piece different in color and showing some type of subtle pattern. Navy and dark maroon are my favorites here – often decorated with fine foulard pattern. The picture left is a perfect example of a silk scarf that can be used on a black tie ensemble. While being stylish, it also serves practical function. Not only will it keep you warm, but (what's even better), you can offer it to your date should she be getting cold. What a gentleman you are!
2. Double Breasted Jackets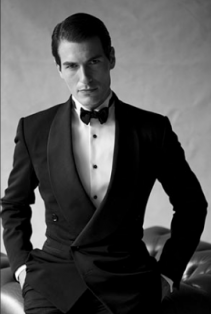 The double breasted jacket cut was especially popular during the 1930s, but that is not to say that this cut is out of style. In fact, quite the opposite is true. Recently, double breasted tux jackets have seen quite a come back. Should you opt for this style, then renting is almost never an option as 1. few rental places carry this cut, and 2. perfect tailoring is imperative as an off-the-rack double breasted jacket can easily look baggy and sloppy. Since buying is pretty much the only option, you may want to think about how often you plan on dressing in black tie…
3. Onyx Cufflinks & Studs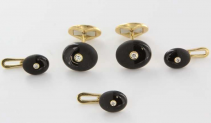 Cufflinks and button studs came into fashion around 1840s – a time when men's white dress shirts were so heavily starched that they were too difficult to button.  While not a whole lot has changed in the look and design of formal cufflinks and studs, vintage pieces add some subtle character and more soul to your wardrobe. It is one of the few pieces of acceptable men's jewelry for this formal dress code, so why not pick something that is unique. Personally, I used a golden set decorated with black onyx that dates back to the 1920s. While it is only a tiny accessory, it was what friends commented on the most.
4. The Pocket Watch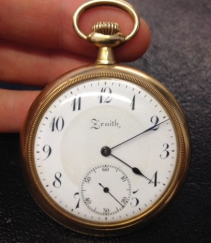 Let's be honest, who wouldn't want to wear a pocket watch. I was lucky enough to have one that my great grandfather ones owned. It is much more than just a time piece. If you are looking to set yourself apart from all the other black-tie uniforms, this might just be the piece for you.
5. Boutonniere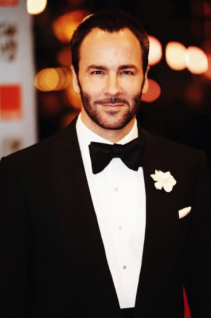 Nowadays boutonnieres vary widely in look. Flowers, feathers, twigs, and fabrics are being used to create these lapel decorations. The traditional boutonniere however was a red or white carnation flower which was not pinned to the jacket's lapel, but was put through the actual lapel button hole (fun fact: "Boutonniere" is the French word for "buttonhole")
Other Suggested Articles:
Vintage Necktie Designs – 1950s
Guide to Different Bow Tie Styles
by Hendrik Pohl
Tie Aficionado & Founder of Tie-a-Tie.net