Tie Knot Tips for the Big & Tall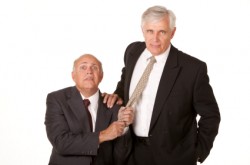 If you are tall then tying a necktie to the right length might sound like an all-too-familiar problem. In the ideal world you would only have ties that are a few inches longer than the average necktie, but in reality finding a good selection of fashionable ties in XL length is quite difficult. If you own a few ties that are too short for your stature, then this article is right for you. In this post I will give the big and tall man tips on how to tie a normal length necktie.
There are four things that factor into the right length needed: Your height, your neck/collar size, the type of tie knot you want to tie, and the size of your belly. There is no doubt that tall men will need a longer than average necktie. To make it easier to decide whether or not you need a normal or XL sized tie, do this: Add together your height and neck size in inches. If the sum is larger than 92 inches then you should be shopping for XL sized ties that are 61-63 inches in length (untied). Or you may also use my Tie Length Calculator
Big & Tall Men Tying Normal Length Ties
99% of all regular length ties are 57-59 inches in length (untied), and will be a good fit for men between 5 feet and 6 foot 2 inches. Even if you are taller, there are a few things you can do to tie a normal sized tie to the right length (ending near your belt buckle). Here are my top 3 tips:
Tie a smaller tie knot: Knots like the Windsor take up more of your tie's length. The best knot here (one that takes the least amount of fabric) is the Four in Hand knot. It is a smaller knot and best for narrow spread collars.
Go to a tailor: Go and research for a good tailor. Sites like Yelp.com will make finding a knowledgeable tailor a piece of cake. Have him/her add 4 to five inches of fabric at the narrow part of the necktie. There is no need to try and match the fabric of the tie since it will not be visible. Excellent fabrics are felt and cotton.
Wear a 3-Piece Suit: Personally, I am a huge fan of the three piece suit. Only the top few inches of the tie will be visible, and no one will notice a tie that has been tied to short. What does matter is the perfection of the tie knot. Since only a small portion of the tie is visible, the knot will take center-stage.
Other Interesting Blog Posts:
Tying a Tie That is Too Long – Tie Knot Tips for Shorter Men
Thanks for visiting my Site & Blog!
Hendrik