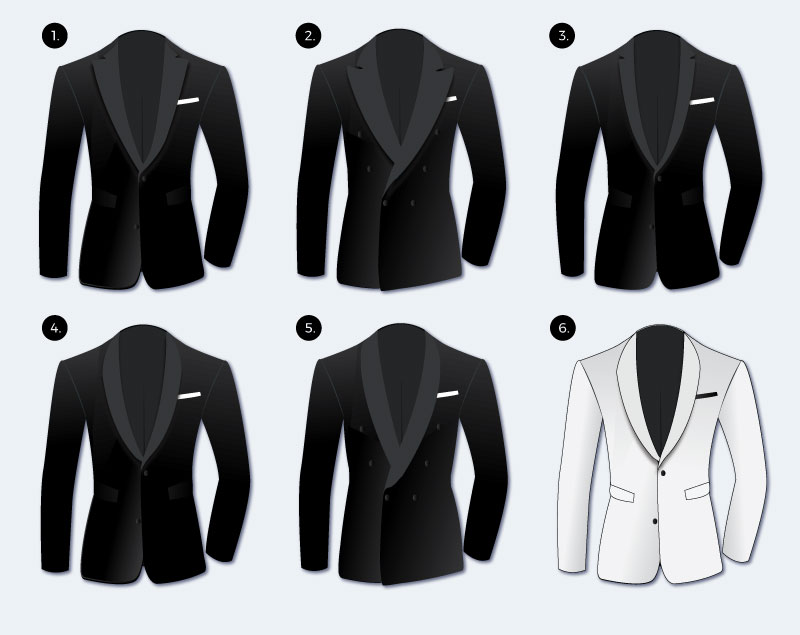 Black tie is one of the most misunderstood dress codes in menswear. In a nutshell it is made up from a black tux, formal shirt, waistcoat or a cummerbund (never both), and a black bow tie. (CLCK HERE for a detailed instructions on dressing for men's black tie attire.)
However, black tie does allow you to personalize your look. In this post I am discussing different jacket styles that stand out thanks to a unique cut, color or tailoring detail.
#1 Single Breasted (w/ peak lapels)
The single-breasted tux is the most common style. Almost always this is the style that is available to you at tuxedo rentals. It is a timeless look that makes up the "Gold Standard" of classic black tie dress.
#2: Double Breasted (w/ peak lapels)
The double-breasted tux is one of my favorite looks. To me it has a very unique, gentlemanly, and masculine elegance. The key to a good looking double-breasted tux is in the tailoring. The jacket needs to fit perfectly at your shoulders, taper at the waist, and be cut to the right length. Because most double-breasted tuxes feature wider lapels these jackets look excellent with a larger butterfly bow tie (read about different bow tie styles here). Two great examples where this is done just right, can be seen on Tom Hanks as well as Tom Ford.
#3: Single Breasted (w/ notch lapels)
If you are looking for a modern cut tux that is tailored with a slimmer silhouette, then this is the style for you. Because of the narrow notch lapels these tuxes look best with standard butterfly or narrow batwing bow ties. Also, they look fantastic with solid skinny black neckties – creating a more modern, trendy, and slightly more casual black tie look. That being said, it is a perfect look for "black tie optional", or "black tie preferred" invitations.
#4: Single Breasted (w/ shawl collar)
Another excellent pick for the fashion forward and modern man is the single breasted tux featuring a narrow shawl collar. It can be worn with standard black bow ties as well as slim black neckties. Lapel flowers are not suited for this jacket style. Instead choose a solid white pocket square.
$5: Double Breasted (w/ shawl collar)
Chances are you will be one of the only men wearing a double breasted shawl collar tux at the event! If you want to stand out with your impeccable sartorial wardrobe choices, while perfectly adhering to a strict black tie dress code, then this is the jacket for you. It is best worn with cummerbund, formal un-pleated dress shirt, and a white pocket square.
$6: The White Dinner Jacket
The white tuxedo jacket is worn for so-called "Warm Weather Black Tie". As the name suggests, it is a formal black tie event taking place in warmer climate during the day. The white dinner jacket comes in single and double breasted cuts, as well as any lapel style. It is considered a faux pas to wear it with a waistcoat. Instead it is paired with black pleated cummerbund, white formal shirt with onyx studs, black tuxedo pants, and patent leather dress shoes.