Has this happened to you? You are packing for a business trip but don't want to take your favorite ties with you out of fear they will get damaged or wrinkles? What's the point then of having these fancy ties? Don't you want to look your best and dress to impress for those important business meetings out of town? What you need is the right tie travel case! Below are some tie storage and travel accessories that will not only make sure your ties look like new for years to come, but many of these accessories will also help you organize your tie collection. Read below the graphic to learn the pros and cons for each style.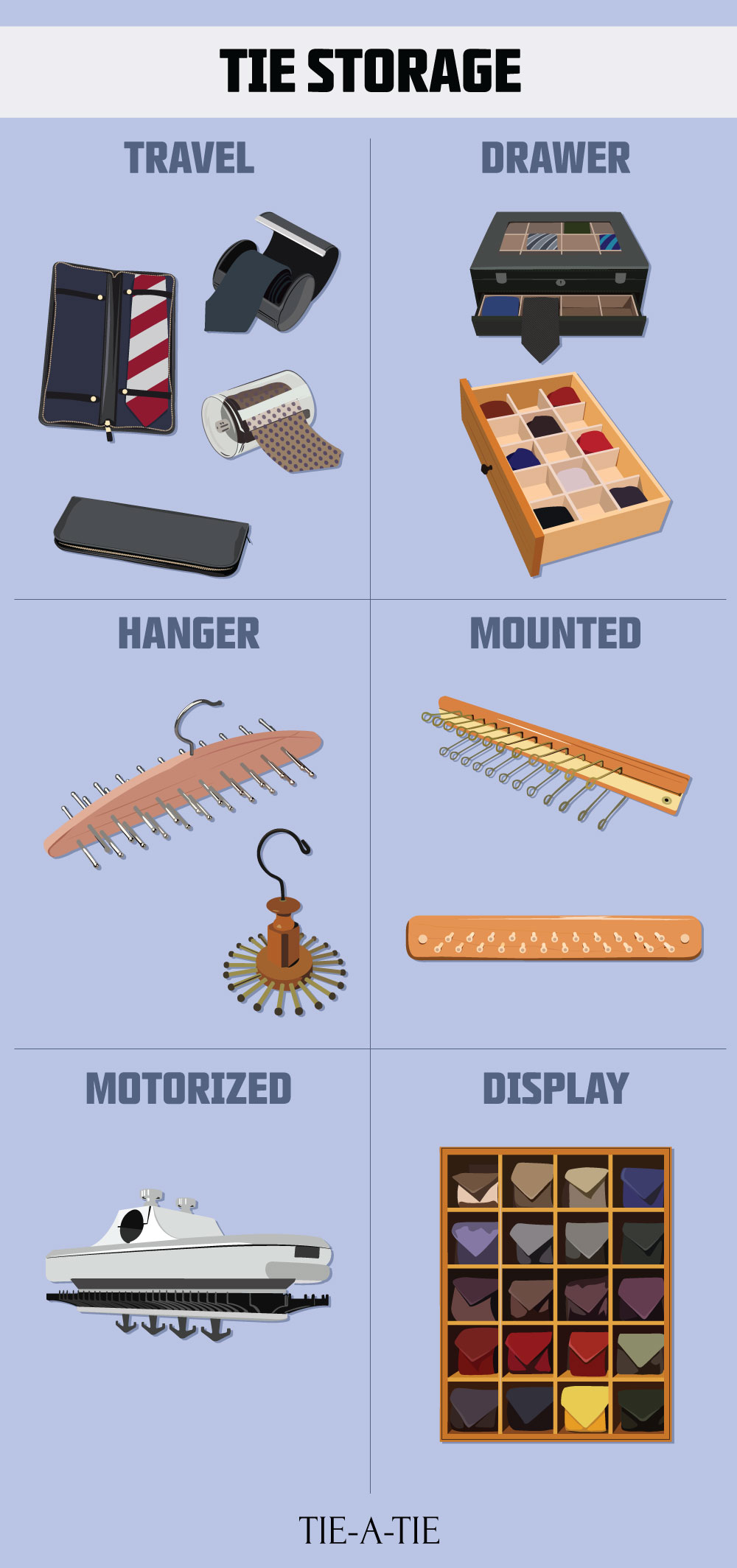 Travel Cases
A proper tie travel case is a must have item for anyone who regularly travels with suit and tie. Personally I prefer foldable leather cases that typically hold 2-4 ties. They range from $20 (when made from nylon) to a few hundred dollars when made from exotic leathers with brand name attached. Because these are classic pieces that will never go out of style, they make for a perfect gift as well. One of my favorite ones is this one here by Mark and Graham.
Besides these leather travel cases, there are also cylindrical cases designed for single ties. Most of them are made from leather or plastic and are closed with a snap or magnet. Leather is preferred over plastic as plastic cases can break easily. Personally I am not a fan of either.
Hanging Organizers
If you own more than a handful of ties, but less than 30 ties, then I suggest you invest in a simple hanger style tie organizer. They are available in all kinds of shapes, but I would recommend one that isn't too long as, is relatively flat, and made from cedar wood. A shorter length (less than 10 inches) keeps it balanced better even when ties are not spread out evenly. A shallow width helps in taking up less room in your closer, and the cedar wood is a great repellant against moths who love to eat silk fabric. This one here by Allen Edmonds is my personal favorite.
Mounted Displays & Racks
Are you a tie aficionado who loves to collect fancy neckwear? Then you probably own 50 or even hundreds of ties. If that is you, then a hanging tie rack won't cut it. You need something that holds more ties, is easier to organize, and holds your ties better. A mounted rack is the way to go. This one here is perfect! While it only holds 24 ties, you can easily install several in a row or below each other. I have mine installed inside my closet door.
If you love your ties so much that you wish you could wear multiple ties each tie, then you may also want to consider one of these wall mounted cubby shelves. While typically only seen for store displays, they can be a piece of colorful art in your walk-in closet.
Drawer Inserts
Personally I am not a big fan of using drawer inserts as most of them require you to roll your ties and then placing the cylinder shaped roll upright. This can negatively impact the shape and drape of the tie. But, if you have an extra drawer available, have limited hanging space, and are tired of your ties falling off from the tie rack, then a drawer insert might be right for you. Choose an flexible fabric insert that is adjustable to fit a wide range of drawers. This one here by the Container Store is a good option that can be adjusted to fit a wide range of drawer dimensions.
Motorized Organizers
Do you love to read Sky Mall, step into a Brookstone store every chance you get, and are a sucker for gadgets in general? Then you might be the right candidate for a battery powered rotating tie rack. They typically mount on a clothing rod and hold upwards of 30 ties. Most of these racks also have an LED light. The downside of these racks is that they require you to change batteries occasionally, they take up much real estate on your clothing rod, and they tend to break easily as most of the ones I have come across are cheaply made. Still convinced that you want to organize your ties this way, then I found a good option here on Overstock.com.
Other Suggested Articles