How to Store Your Ties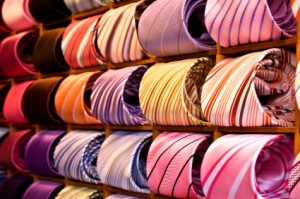 You can probably guess that I am quite the tie aficionado. In fact, over the years I have collected over a hundred different neckties in all imaginable colors, designs, and cuts. As my tie collection grew, finding a particular tie became more and more difficult. Eventually I decided to store my ties in a way that allowed me to quickly find the one I had been looking for. Below I am giving you tips to store your neckties.
Buy a Tie Rack or Two
In my biased opinion specialty made tie racks are the way to go – especially if you have over two dozen different ties. Not only will it be easy to quickly see your entire collection, but quality tie racks will also protect the fabric of the tie. When shopping for a tie rack there are a few things you want to consider: How many ties fit on the rack, how secure are the ties (can they slide off easily), and finally how easy is it to remove and/or hang a tie on the tie rack? After trying a few different tie rack designs I decided that I prefer those tie racks that you can mount inside of your closet door. The individual hangers fold in, keeping the needed storage space at a minimum, while at the same time making it easy to quickly find the tie you have been looking for.
Don't Overstuff
I suggest you don't over-stuff your tie rack for two reasons: First, keeping some space between the ties allows the fabric to breathe which will eliminate odors. Second, having some space between each tie makes it much easier to find the tie you are looking for.
Sort by Color
When matching a tie to shirt and suit it is the color that matters most. Thus, it makes sense to sort your neckties by color and to arrange them from light to dark. I actually have seven different tie racks that I mounted on the inside of my closer door. The colors are as follows: Red ties, yellow and green ties, black white silver ties, blue ties, brown and burgundy ties, orange pink and purple ties, multi-colored neckties.
I hope this tie storage advice was helpful. Should you not want to spend money on a tie rack then you can also use a hanger, or roll up your ties and place them into a drawer. Regardless of which method you choose, make sure that your ties are not hung in direct sunlight as this may cause colors to fade.
Other Blog Posts You Might Like:
Tie Tips & Tricks
Skinny Tie Style Tips
Thank you for visiting my site!
Hendrik