Three New Tie Trends to Look Out for 2012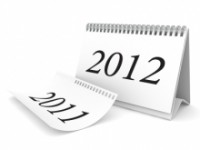 Dear fellow tie and men's fashion aficionado. Before talking about new tie fashion trends emerging for 2012 I wanted to thank you for such a great 2011. I appreciate you visiting my site and telling your friends about my tie-a-tie resource. For 2012 I made it my goal to continue growing this site by providing more tie-related fashion information. I also want to expand my dress code section, add a few new video tutorials, and add a few new different tie knots.
What is New in Stores for 2012?
I spend my Holidays in the Los Angeles together with my family, and I took the chance to to some "tie shopping" along the infamous Beverly Hills Rodeo Drive. I looked at new collections by Brioni, Feragamo, Tom Ford, Gucci, Brooks Brothers, Versache, DG, Hermes, and many more high end men's fashion establishments. Out of the hundreds of ties that I inspected and tied into a variety of knots, I picked out two new ones by Tom Ford. In general I was impressed with Ford's eye for new styles, colors, and fabrics. Their fall and winter collection already impressed me with unique fabric weaves and blends. Quite common among several high end retailers were wool and silk blends woven into the most elaborate and intricate fabric textures. This trend continued into the spring season but wool is being replaced by lighter "summertime" fabrics such as linen and cotton.
Besides unique fabrics, a few new patterns appeared to be popular by several high end brands. One of the most visible patterns (specially by Tom Ford) is the micro hounds-tooth check in a monochromatic color scheme. Also popular among several designers is the idea of using two contrasting, yet complimentary colors on the narrow part and the wide part of the tie. This will create a different colored knot then the rest of the tie – something that I personally have not seen in previous seasons.
Finally, let's talk colors for spring 2011. Pastel tones in light blue, rose, peach, coral, and pink are popular choices among several brands. In addition to these classic spring colors, I noticed a few designs add light berry purples to their collections.
If I had to pick a winner and looser of all the dozen plus designers I visited then Tom Ford deserves the gold medal for design, creativity, and elegance in my book. The brands that didn't impress me were D&G as well as Versache.
Thanks for Visiting.
Hendrik Pohl
Tie-a-Tie.net