Guide to Necktie Fabrics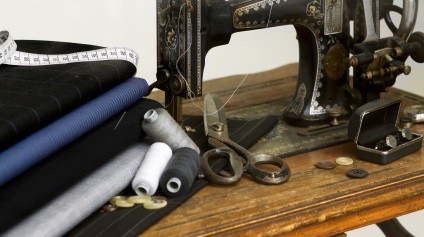 Have you ever gone tie shopping and looked at the labels sown into the back of the tie telling you what the tie is made of? If you think that all neckties are made from silk, then take a look at the ties in your own wardrobe. I bet you will be surprised what type of fabric blends you will find. Below I put together a list of the most common fabrics used for making a men's tie. Instead of just listing dozens of different fabrics, I decided to group them into five categories.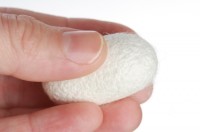 "Seasonless" Fabrics
By "seasonless" I mean all the classic fabrics that can be worn in any of the four seasons of the year. The first fabric that comes to mind here is silk. Silk is a natural fiber that dates back to the 27th century BC in China. Amazingly, during the 5,000+ years that silk has been used, not much has changed in its production.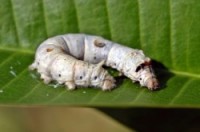 Silk is made from the cocoons of silk worms (first picture above) that are farmed (mostly in China) in the millions. On average each silk worm (2nd picture) produces 1,500 – 3,000 feet of fine, raw silk. To get a single pound of raw silk over 2,000 worms have to get to work – this translates to about 150 per necktie. Now, if you are an animal lover then you may want to think twice about buying a silk tie since all these 150 worms are killed during the silk production.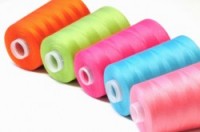 Cheap Synthetics & Silk Imitations
If the above paragraph got you thinking about buying ties made from something other than silk, then the following fabrics might be good alternatives. Advances in synthetic fibers now offer many man-made, "vegan friendly" fabrics that come very close in look and feel to genuine silk. In fact, they often offer additional advantages: they are cheaper, they take on dyes more easily (meaning they are available in more colors), usually don't wrinkle as easily, and are a bit more stain resistant. The two most common synthetics used on neckties are polyester and microfiber. Polyester is cheaper in price, but also in look. A better choice is microfiber. A quality microfiber tie will look almost identical to silk, but will cost less than half the price.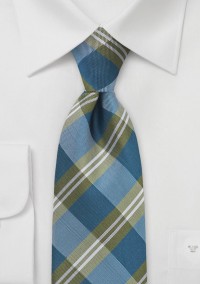 Summer Tie Fabrics
Just like there are summer fabrics for men's suits, there are so-called "Summer Tie Fabrics". The two most common summer specific tie fabrics are linen and cotton. These ties often come in light pastel colors and show typical summer patterns such as plaids, delicate stripes (such as seersucker), and playful polka dots. When matching these ties make sure to pair them with complementing summer suits and shirts. Suits made from linen and/or cotton in lighter colors are excellent for these summer-specific neckties. Also, these fabrics often add a more casual/leisure look to the tie – something to keep in mind when dressing for a conservative office setting.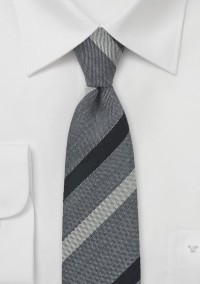 Winter Fabrics
While linen and cotton are classic summer tie fabrics, wool and other "warmer" weaves are common choices among winter ties. Worsted wools (pictured is a worsted wool tie by designer BlackBird), tweed, cashmere, and different wool blends are common choices. My tip: Add a few of these "winter ties" to your wardrobe. Look for ties that are slightly narrower in width (2.5 – 3 inches) which will be a nice, elegant contrast to the somewhat rugged look of the coarse fabric.



Trendy & Unconventional Tie Materials
During the early 80s skinny ties made from leather came into fashion – something that (fortunately so) did not last long. Today leather is typically only found on bolo ties (aka Western ties). Last but not least, I have seen neckties made from bamboo – a fabric that actually looks and feels much like cotton, but is apparently more eco-friendly and sustainable.
Some More Suggested Readings:
Tips to Find Your Perfect Tie
Tips for Skinny Ties
Thanks for Visiting Tie-a-Tie.net – A Site Teaching Men How to Tie a Tie