Three Must Have Ties for Fall & Winter 2012
As a tie aficionado I get excited every-time my favorite tie shops here in San Francisco receive their new seasonal collections. This is exactly what happened a few days ago when I stopped by some of my favorite men's clothiers here in the city, where I was greeting with a wide collection of new tie colors and designs. I then went on to a few larger department stores that are known to carry a larger tie assortment of many well known brands and labels. After several hours of tie shopping I found three ties which, I believe, should be in every man's collection for the coming Fall and Winter season.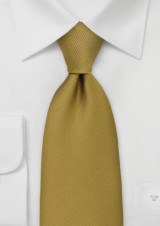 Spice Colored Necktie
Be it high-end designer Brioni or the more mass-produced tie collection of Banana Republic, one thing almost all designs and labels share is the presence of so-called "Spice" colors. A look at the spice section of your local Whole Foods is enough to give you a good idea of what to expect. Ties in saffron, cinnamon, cayenne, and oregano could be found in any designer's current collection. These colors look excellent when paired with all fall and winter suits. They also look great with heavier fabrics such as tweed, worsted wool, flannel, and cashmere. The tie I picked was a solid saffron tie Tom Ford that is slightly slimmer in width at about 3 inches. Although not the tie I purchased, the tie pictured on the left is quite similar, and at just $18.90, cost a fraction of what I paid. Click on the image to purchase the tie at our affiliate site: Bows-n-Ties.com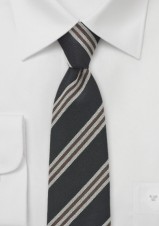 Tie Made from Worsted Wool or Cashmere
Woolen ties were already in style last year, a trend that appears to stick around for yet another Fall and Winter season. Personally I like the combination of the rugged texture of worsted wool most when paired with a more modern skinny cut. My suggestion, look for a tie made from a coarser worsted wool that is about 2.25 to 2.5 inches in width. Keep the design subtle and the colors dark and muted. Think grays, midnight blue, olive, and maroon. Tie this tie with a more casual Four in Hand knot and your are set to go!


Knitted, Dark Colored, Skinny Tie
Another trendy that stuck around from last Winter are knitted ties. My tip: look for a solid colored tie that is skinny in width (2-2.5 inches), knitted using silk, and featuring a flat (squared) tip. The tie on the left, by Banana Republic, is a perfect example. Pair this tie with a narrow spread collar, slim fit suit, and tied with a loosely tied four in Hand for most dapper results. For more matching tips on these pieces, check out my guide on Wearing Knitted Ties



Thanks for Visiting My Blog.
Hendrik