A Wardrobe that Even the Top 1% Can't Afford
The world's most expensive wardrobe comes in at a whopping $6.6 Million – a price tag that will make even the Top 1% feel poor. Using Bloomberg's Top 1% income figure of $350K, it would take the average 1% earner over 30 years of frugal lifestyle to afford such lavishness. To put things in perspective, $6.6 Million is enough to feed 90,000 starving children in Africa for an entire year (figure taken from the United Nations World Food Programme). I think this is the perfect example that money can't buy style, and certainly can't buy class.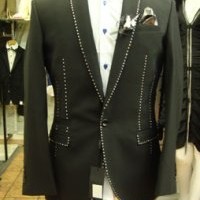 Stuart Hughes Men's Suit – $900,000
The world's most expensive suit was a collaboration between luxury designer Stuart Hughes and tailor Richard Jewels. The suit is constructed out of fine cashmere and silk blend, and is decorated with a trip of 480 diamonds with a total weight of 240 carats. Apparently it took a master tailor 600 hours to create.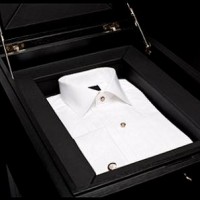 Eton's 80th Anniversary Dress Shirt – $45,000
Cheap in comparison to the suit featured above is this limited edition dress shirt by Swedish shirt maker Eton. The luxury shirt maker created this piece in celebration of its 80th anniversary. The shirt is constructed from fine Egyptian cotton, and of course dozens of diamonds on the studs and cufflinks. Best of all, there is no need to feel guilty for this lavish spending since all proceeds will go to Charity.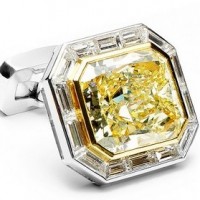 Jacob & Co. Cufflinks – $4.2 Million
If the "free" diamond cufflinks that come with the Eton shirt (shown above) aren't flashy enough, then Jacob & Co designed the perfect upgrade for you. The centerpiece on each cufflink features a 10.5 carat yellow diamond framed with an additional 5 carats of baguette cut diamonds.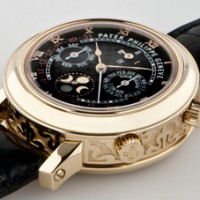 Patek Philippe "Sky Moon Tourbillon" – $1.1 Million
Compared to the world's most expensive men's wrist watch (1735 Blancpain @ $8.39 Mil), Swiss watch maker Patek Philippe created a bargain timepiece. Although one would expect a flashy diamond encrusted bezel for such a price tag, the designer uses ordinary gold and leather instead. It is a lavish yet impressive double-faced timepiece that features a sidereal time display, perpetual calendar, stars motion side display, and moon phases.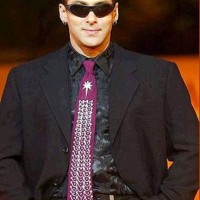 Necktie by Satya Paul – $223,000
Still looking to add more flash and bling to your ourfit? Then this quarter million dollar necktie will be perfect. Designer Satya Paul created this lavish tie from silk and white gold yarns, and decorated it with 261 diamonds (77 carat in weight). After finding this tie, I thought about what tie knot would suit it best, but couldn't decide on one. Regardless of the price, I find this the most tacky piece on this "most expensive wardrobe".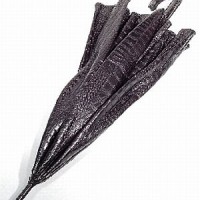 Crocodile Skin Umbrella – $50,000
Perfect for the rainy season this winter is this $50,000 umbrella, designed and created by Italian Formula One mogul Flavio Briatore and designer Angelo Galasso. It is constructed out of genuine crocodile skin that is actually water resistant.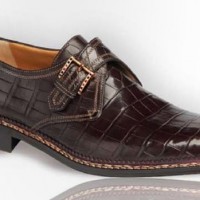 Moro Alligator Skin Dress Shoe by A. Testoni – $38,000
To finish this billionaire's outfit, I picked out these $38,000 cheap dress shoes by Bolognia's luxury shoe maker A. Testoni. It not only Testoni's most expensive shoe to date, but it is the most expensive men's dress shoe in the world. It is made from alligator skin that will be the perfect compliment to the $50,000 umbrella featured above.


Think I missed an accessory for this billionaire's wardrobe? Then tell me in a comment below.
Hendrik
Tie-a-Tie.net