Winston Churchill is the Most Famous Bow Tie Wearer of the Past Century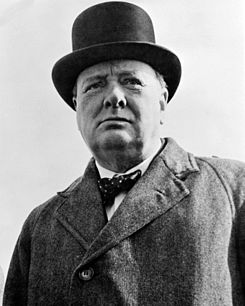 There are a great deal of individuals who are famous for their approach to wearing ties throughout history. Some of the world's most famous history-makers were quite partial to the tie, proving to generation after generation that the importance of looking one's best should never be underestimated. One of the most important tie wearers of all time was British prime minister Winston Churchill. Churchill was a huge advocate of the bow tie, and his penchant for wearing the style helped to propel it into the public eye. The following is a look at Winston Churchill's style, and how he utilized the bow tie to take his appearance to the next level.
The Style of the Era
The climate of World War II had a huge impact on the style that was commonplace during the era in which Winston Churchill was omnipresent in the public eye. With rationing being an overbearing side effect of the war, many people simply didn't have the time or money to devote to fashion and style. Nevertheless, public figures such as Churchill did all they could to look their best, if only to prove to the public that they were the right men to serve as leaders. Churchill embodied sophistication during this time period, and rarely made public appearances wearing anything but his best pieces. His John Bull hat became a huge part of his look, often paired with the finest full suits that money could buy at the time (tailor-made by Turnbell & Asser). It should come as no surprise that he was an advocate of the bow tie given his penchant for focusing on the way he dressed.
Churchill's Bow Tie
To put it simply, the bow tie was the element of Churchill's ensembles that truly brought cohesion to his look. More often than not, he was seen wearing a navy blue bow tie that featured white polka dots, which created a great deal of contrast in the outfits he wore. This bow tie became so popular that it was eventually mass-marketed as the Blenheim, a style that Churchill is thought to have directly inspired. Churchill occasionally incorporated a white pocket square into his ensembles, which accented his bow ties even more thoroughly and lightened up his darker suits. Paired with the right hat and a cigar in-hand, the leader couldn't have looked more sophisticated if he'd tried.
Takeaways for the Modern Man
Perhaps the most important thing that modern men can learn from how Churchill wore bow ties is the confidence he exhibited in doing so. A lot of men who aren't used to wearing bow ties feel as if the style may be difficult to pull off, but it doesn't have to be when approached properly. Start with a subtle patterns like pine polka dots or checks, which will help to ease you into wearing them and make doing so feel more comfortable. The Blenheim remains an attractive style of bow tie, however, and incorporating it into casual as well as formal ensemble can be a great way to add a touch of Winston Churchill's style to your own look. On a final note, stick to self-tied bow ties as the pre-tied ones usually have a somewhat tacky rep in the eye of the bow tie aficionado. For more information, please check out my tutorial on How to Tie a Bow Tie.
Besides Churchill's signature bow tie, I suggest you take notice of the suit pattern's Churchill often wore. Two of these suit patterns are windowpane check, as well as a so-called Harris Tweed – both thicker fabrics that are perfect for the Fall and Winter season. I suggest you stroll through some thrift shops and look for these styles. I recently came across a nice Vintage Harris Tweed sports coat at a local antique fair for just $30. I send another $20 on alterations and now have a piece that looks better than a $500 jacket you would find at a Brooks Brothers.
Thanks for Visiting my site Tie-a-Tie.net