We've created an infographic for the men's watch aficionado! The Art of Time showcases six different styles with 50 iconic models of past and present. See what sets each style apart below.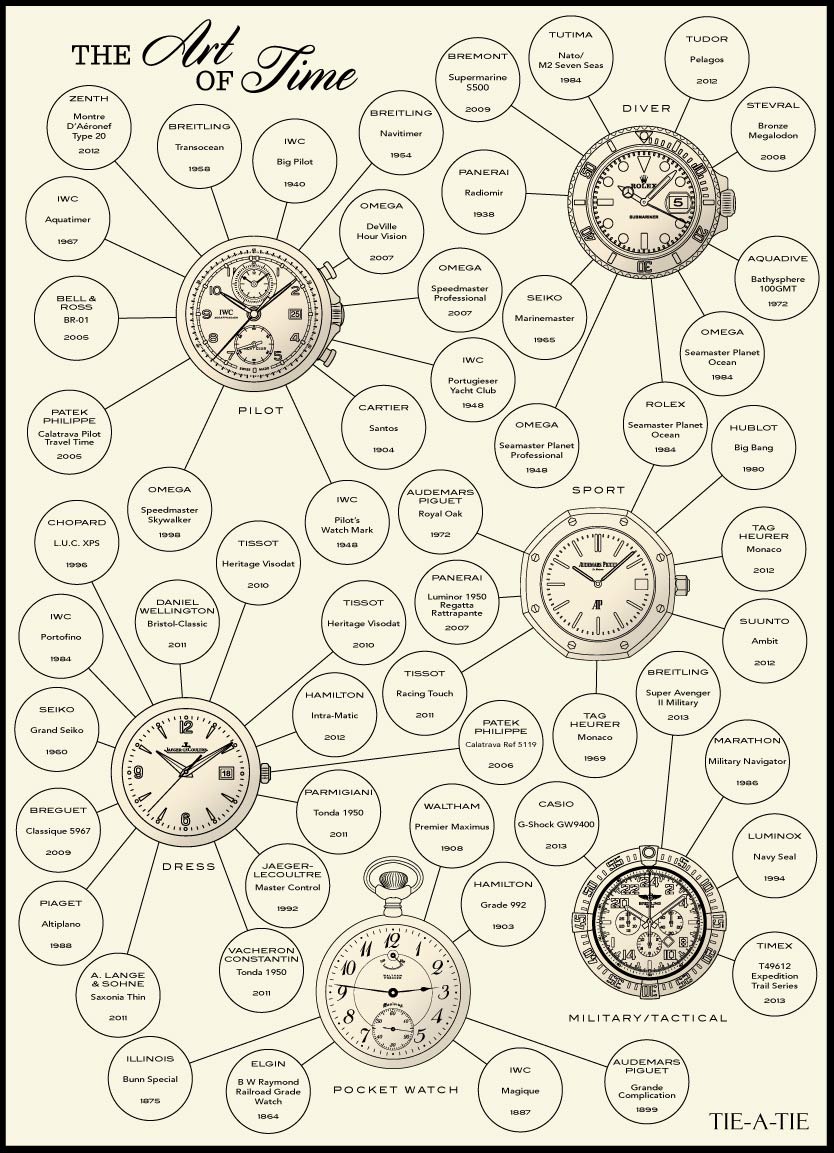 Diver Watch
Never miss out on an adventure when you are a proud Diver Watch owner. Originally designed to fill a need for military, explorers, and divers, the watch is now essential for experienced divers, any waterproof need, and good style. With models having the capacity to function in varying depths of 50m to 300m+ underwater, the diver is made to resist the toughest environments.The most defining characteristic is its waterproof quality. Many offer ultra-water resistant qualities including double-locked winding crowns, additional gaskets, and helium escape valves. Another iconic trait is the unidirectional rotating bezel, which usually moves counter-clockwise and allows divers to keep track of elapsed time from a specific point. Most models feature illuminated hands and markers for underwater reading.
Pilot Watch
Designed to meet the needs of those in aviation, the Pilot Watch often contains a busy designs and many features. Typical models include a chronograph (stop watch), slide rule bezel, and multiple-time zone function (GMT). These timepieces undergo tremendous testing to ensure the reliability in various temperatures and gravitational forces. They also tend to be antimagnetic and shock-resistant and will likely be found on a leather strap or steel bracelet. Aside from the technical details, the most important aspect for any pilot is easy readability.
Sport Watch
Sport Watches have the style and class of a dress watch with mechanical features of a military, a hybrid of sorts. Often watches deemed "sport" are durable, water-resistant with a screw-in crown, luminous markers, chronograph, and made from steel. Designed for the recreational man whether racing, kickboxing, or fishing, the sport watch was made to combine finesse with an active lifestyle.
Dress Watch
The Dress Watch speaks for itself with style and sophistication. A minimalist's dream come true, these watches have a simple thin design with only the essential timekeeping features. Often found on a leather strap, it evokes elegance without the bells and whistles. Designed for the true gentleman who wears a watch for the class and not the accessory, it's made to slip in perfectly with a suit, jacket, or dress shirt.
Military/Tactical Watch
Durability and rugged don't begin to define the uses and capability of a Military or Tactical Watch. Designed with features to help inform one while out in the wild or on a secret mission, it stands alone among its other watch comrades.While style is always important, these watches lean more toward functionality than fashion. Some qualities are essential for such an occupation: waterproof, good design, accurate time, and good battery are standard. Other optional characteristics include sunrise/sunset times, barometer, altimeter, compass, thermometer, and GPS.
Pocket Watch
The original handheld timepiece, the Pocket Watch offered individuals the ability to know the time at any point. Made popular in the United States during the days of the railroad, accurate timing was essential for the safety of the conductors. The most notable and obvious trait to the pocket watch is that the watch-dial, often accompanied by a cover, is made to fit in a waistcoat, lapel, or belt loop. Generally these watches were attached to a chain for safe keeping and easy access. The design was simple and the precursor to dress wristwatches.