10 Celebrity Tie Aficionados of the 20th Century
As a tie aficionado I was curious who in the celebrity world shares the same passion for wearing ties. While some of these names below instantly come to mind when thinking about famous tie wearers, others might come a bit as a surprise. After looking through hundreds of pictures and movie clips I created this TOP 10 list of the most famous tie wearers of the past century. Besides taking a closer look at each celebrities favorite tie choices, I am giving you advice on which bits and pieces of each celebrity's style are worth incorporating into your own wardrobe.

#1: Winston Churchill
Mr Churchill is not only famous for being one of the greatest wartime leaders of all time, but he is also known for being a man that paid great attention to the way he dressed. From Turnbell & Asser's perfectly tailored double breasted suits, the recognizable John Bull top hat, or his meticulously tied navy & white polka dotted bow ties, Churchill was a man that knew how to dress in elegant fashion. Read more here…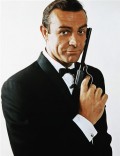 #2: James Bond
Although James Bond is a fictional character, this list would not be complete without this British secret agent. His approach to elegant dress, and his perfect understanding of the Black Tie Dress Code was convincing enough to put Mr Bond near the top of this list. James Bond's tie choices fall into the classic, elegant, & timeless category. From perfectly self-tied black bow ties to sophisticated striped Regimental ties – he knew how to wear ties like few others. More on James Bond's Tie Choices…

#3: Beau Brummel
No men's fashion top10 list is complete without the founder of the modern suit, Mr Beau Brummel. Typical for the time era he lived in Brummel mostly wore ruffled ascots, although he is also often accredited with the invention of the modern cut tie (although opinions vary here). To read more about Brummel's style, and why he deserves to be on my Top 10 list, please click here…


#4: The Duke of Windsor
It should go without saying that the inventor of the Windsor knot (one of the most popular necktie knots in the world) must be on this list. While the Duke's perfectly fitted double Breasted suits, his elegant approach to formal White Tie Attire, and his skill in matching multiple patterns into one ensemble are definitely worth the nomination alone, it was his perfectly dimpled tied neckties that convinced me to add him on my Top 10 list. For more, click here…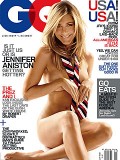 #5: Jennifer Aniston
Even though it has already been over 3 years since Jennifer Aniston posed with only wearing a striped necktie on the cover of GQ magazine, it is still something that comes to mind when thinking about celebrity tie wearers. The fame of this red, white, and blue striped tie grew even stronger after Aniston gave this exact tie to David Letterman while appearing on his show. More on Jennifer Aniston's Necktie…


#6: Cary Grant
This style icon of the past century, without doubt, deserves a spot on this top10 list for many more reasons than his classic black tie look. Grant loved to wear ties and looking through dozens of pictures and movie clips it became apparent that he knows how to wear them all: bow ties, neckties, and even ascots. Read more here…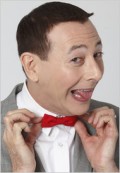 #7: Pee-Wee Herman
Pee-Wee Herman, played by Paul Reubens, is probably the most famous red bow tie wearer of all time. This comedian made the gray plaid suit and red bow tie look his signature outfit. Unique to his look was the narrow spread bow tie (aka Batwing bow tie). Although this outfit was part of a costume, he did not fall for the tacky pre-tied bow tie trap, but instead took the time and effort to tie his own. For more information please click here…


#8: The Blues Brothers
This 1980s comedic duo, played by Dan Aykroyd and John Belushi, brought the skinny black tie back into the wardrobes of modern men, something reason enough to have the Blues Brothers on my Top 10 list. Fore more information on the Blues Brother's style, please click here…



#9: Fred Astaire
This Omaha born Broadway star was not only famous for his 70+ years in the entertainment business. His approach to elegant style, perfectly tailored clothing, and wide range of wardrobe choices convinced me to add him to this Top 10 list. In terms of ties, Astaire has worn them all: striped ties, classic white pique bow ties, skinny ties, and even ascots. More on Fred Astaire's Tie Choices…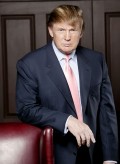 #10: Donald Trump
If anyone is known for wearing a solid bright pink tie, then it is Mr Donald Trump. While his look may be described as flashy, it is anything but tacky or "un-elegant". This, in addition to having created his own "Trump" neck-wear line, convinced me to make Mr Trump, although he is at the bottom, part of this list. To read more on his tie choices and what take-aways you can add to your own wardrobe, please click here…

I hope you enjoyed this article. As always, your comments and/or feedback is appreciated. For suggestions please either e-mail me, or leave a comment below.
Sincerely,
Hendrik