Black tie refers to a formal evening dress code that typically requires men to be dressed in tuxedo and women in evening gown. Below is a basic guide on men's black tie attire. It is my goal to make this black tie guide both: concise and simple. Whether you are looking for a quick guide to this formal dress code, or are a black tie regular that is looking for new, creative ways to dress for this strict dress code, my guide will give you all the answers.
The 30 Second Black Tie Guide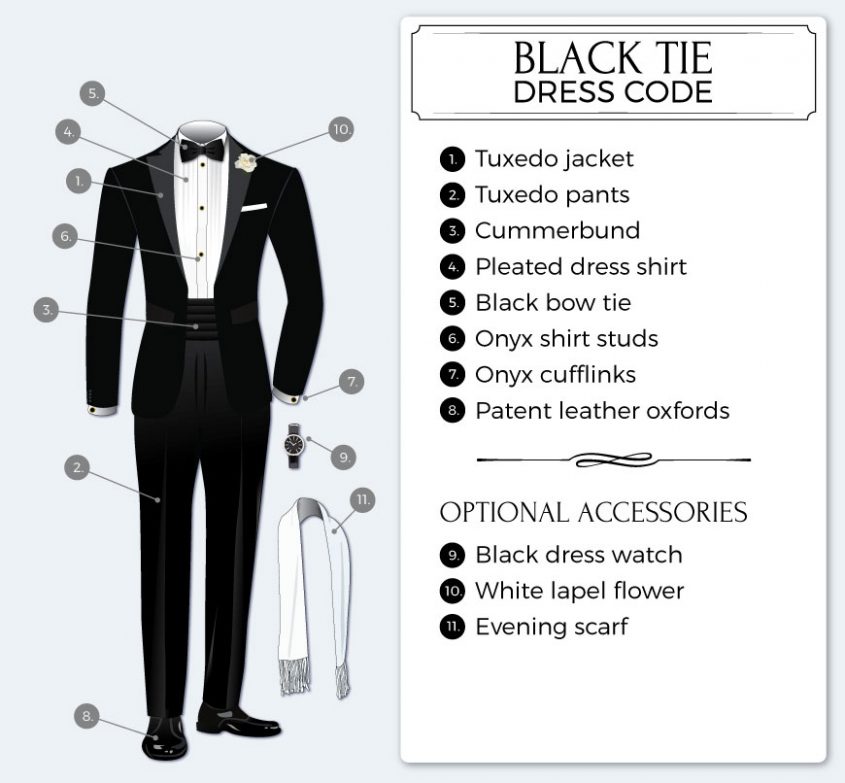 The classic black tie dress code consists of a black tuxedo, white dress shirt, black bow tie, and black dress shoes. These items make up the gold standard of a black tie ensemble. If you are interested to learn more then I discuss each clothing item in much more detail below. I hope you find my black tie guide helpful!
Tuxedos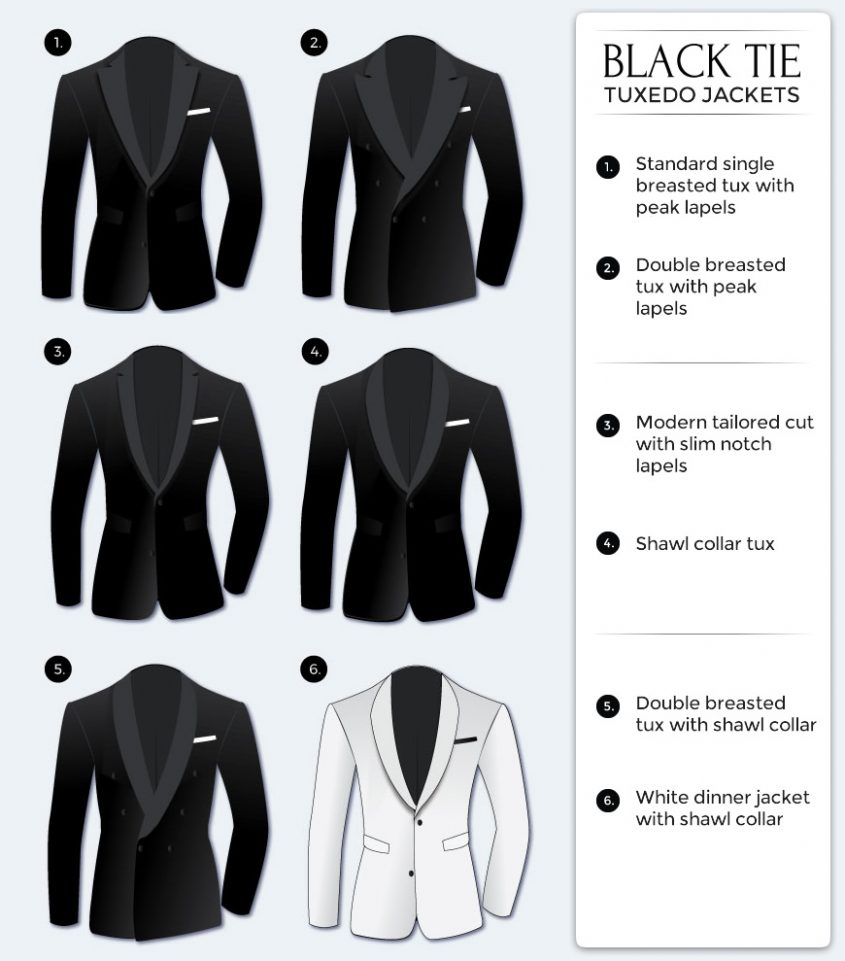 The Gold Standard
If you want to adhere to the classic black tie dress code then choose the traditional tuxedo pictured above. As you can see from the picture, the classic black tie tux is solid black in color, is single breasted, has one single button, has a peaked satin-faced lapel, does not have vents at the back, and is made from grosgrain fabric. If you don't want to go with a standard look but still want to stick to the black tie dress code then read on. In the next few paragraphs I will cover acceptable tuxedo color, cut, and fabric options.
Acceptable Tuxedo Colors
As I had mentioned, black is the classic tuxedo color for black tie functions but a dark midnight blue is an acceptable, and equally suited alternative. Both, black and midnight blue, are acceptable black tie tux colors for evening wear. White dinner jackets worn with black pants are common for day time black tie functions. This type of dress code is commonly referred to "warm weather black tie".
Tuxedo Cuts & Styles
Besides color there are several designs and cuts available when choosing a tuxedo. First, let's talk about the cut. Most common is the single breasted tuxedo. The other choice available is a double breasted jacket. The single breasted style is traditional and more classic. The double breasted cut was introduced in the 1930s. While the single breasted tux is typically worn unbuttoned, the double breasted cut should be worn buttoned – making a waist covering unnecessary (see below for waistcoat and cummerbund options). If you want to keep it traditional then choose the single breasted style, if you want something slightly out of the ordinary then the double breasted jacket would be a suited alternative. Keep in mind that the double breasted cut can be slightly less comfortable when sitting down.
Next, let's talk about lapel styles. Most classic is the peaked lapel. Slightly less common but equally formal is the shawl lapel. Even though notch lapels are more common nowadays they are considered to be slightly less formal. Typically the lapel has a shiny silk facing that matches the facing on the jacket's buttons.
Tuxedo Fabrics
The classic tuxedo is made from a fabric that has a fine diagonal ribbed texture that is also known as grosgrain. Depending on the quality and price point, tuxedo fabrics range from silk (on the higher end) to a man made polyester (lowest cost). Most common is fine worsted wool. I suggest you choose a natural fiber such as wool. It is more carefree than silk and much more breathable and comfortable than a synthetic fiber. Choose a wool that is labeled "super 100" or higher. The higher the number, the finer, shinier, and more exclusive the fabric.
Rent vs. Buy
black tie functions are a once in a lifetime event for you then I suggest you go with a rental. Renting a complete black tie outfit will range from $60 to $120. Make sure to that you give yourself enough time for fitting and tailoring. Call a rental place ahead of time to see what is available. This can be especially tricky during prom or wedding season.
Buying a tux is a good choice if your body doesn't change too much anymore, and if you plan on attending more than five black tie functions in your lifetime. The classic black tie outfit will not change and just five black tie events can offset the cost of buying your own ensemble. The cost is one of the factors to consider when choosing buying vs. renting. Other things to consider are design choices, custom tailoring, and quality. Even lower cost tuxedos will be of better quality than a rental. In addition, buying your own tux will allow you to tailor your garment for the perfect fit.
Black Tie Trousers
Classic Tuxedo Pants
Classic trousers are black in color and made from the same fabric as the jacket. The outer seems are hidden and covered by a silk band that matches the jacket's lapels. Both pleated as well as straight cut trousers are acceptable. Which style you choose is a matter of personal preference and comfort. Tuxedo pants do not have belt loops as they are never worn with a belt. Instead, they are either tightened using adjustable side tabs or suspenders. The waistband of the pants is covered by either waistcoat or cummerbund.
Black Tie Dress Shirts
The Classic Black Tie Shirt
The picture on the left shows a classic shirt that is perfect for your black tie outfit. The classic shirt is bright white in color, has a turn-down spread collar, has a pleated front, and is French cuffed. Below is some more information on different black tie dress shirt options.
Collar Styles
The turn-down collar is the most classic style. Best are wide-spread collars that will hide behind the jacket's lapels creating a more simplistic and elegant look. Also popular, and actually more formal, is the wing-tip collar dress shirt. The wing-tip collared shirt was typically reserved for the most formal of all dress codes called "White Tie". This formal dress shirt is now quite common for black tie ensembles. Finally there is the so-called mandarin collar – a shirt that is almost collarless and decorated with black stud rather than bow tie. Please keep in mind that the mandarin collared shirt must only be worn with so called oriental jacket rather than tuxedo. For more information on dress shirt collar styles and how to match them to different types of ties, check out this post.
Pleats or no Pleats
The classic black tie dress shirt has a pleated front that is spaced 1/2 to 3/4 inches apart. If you want to opt for a more simplistic style that does not compromise formality then you may also choose a plain front shirt whose buttons are replaced with black button studs. Regardless of the style you choose, black tie dress shirts never have a breast pocket.
Waistcoat or Cummerbund?
Classic Black Tie Waist Covering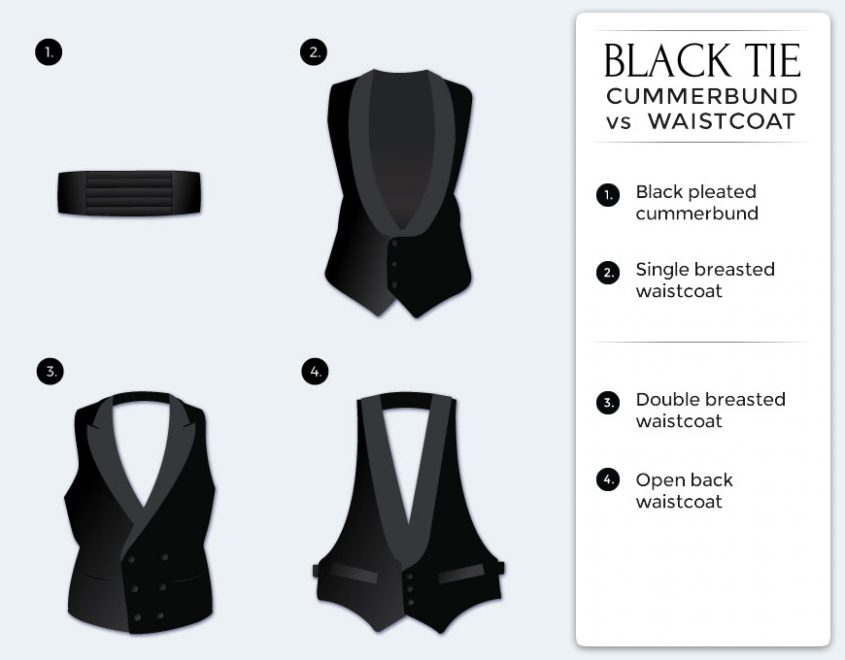 Both, waistcoat as well as cummerbund, are acceptable waist coverings for black tie attire. Even though both are available in a wide range of colors, the classic choice is black – matching the jacket. The black tie aficionado will argue that the waistcoat is better suited for jackets with a peaked lapel while the simple lines of the cummerbund best harmonizes with the clean lines of the shawl collar jacket.
The Waistcoat in Detail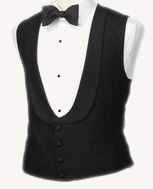 faced in shiny sateen silk to match the lapels of the jacket. Most formal are waistcoats with a low cut, showing as much of the shirt's decorative pleats without hiding the waistcoat. Single as well as double breasted waistcoats are acceptable, and both styles come in full dress as well as open back style (the latter being more comfortable in warm weather). Traditionally the waistcoat has 3- buttons (4-buttons for double breasted) that are faced in sateen silk matching the lapels. Two so-called "welt pockets" are located at the lower front of the waistcoat and were intended to hold a pocket watch and/or ticket stubs.
The Cummerbund in Detail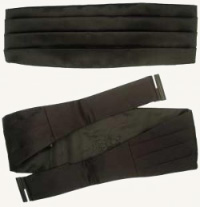 The cummerbund is a decorative sash that originated in India during British colonialism. It was introduced as an acceptable black tie accessory during the 1930s. Traditionally the cummerbund is black in color has upward facing pleats and is made from shiny sateen silk or grosgrain. It is the consensus of black tie experts that the cummerbund is best suited for shawl collar jackets.
Proper Black Tie Neckwear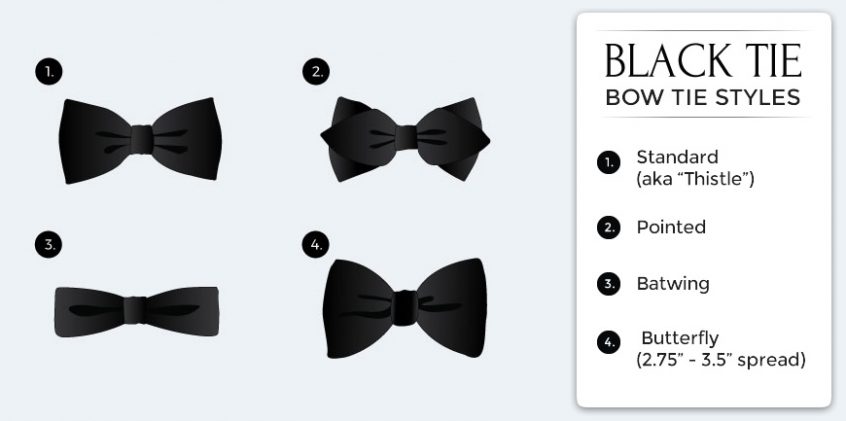 The Classic Black Bow Tie
The classic neckwear for a black tie function is a solid black bow tie that is self-tied. The fabric of the bow tie has to match the facing of the lapels. Sateen lapels are matched with sateen silk bow ties and grosgrain faced lapels are paired with finely ribbed or pique fabric bow ties.
Other Bow Tie Styles
The classic bow tie is a so-called butterfly bow tie. It has a spread of 2-2.5″. Also acceptable are narrow bow ties, called batwing, whose spread is 1-1.5 inches. Finally there are bow ties with pointed tips – a great alternative for those seeking a slightly different and more unique look. When shopping for a black tie bow tie you can choose between a pre-tied and a self-tied bowtie. Pre-tied bows are acceptable for proms but are considered a black tie Faux Pas once you graduated high school. When buying a self-tied bow tie you can choose between a fixed length and an adjustable length bow. I recommend the fixed length bows that are typically available in Small (13.5 – 15 inch neck), Medium (15.5 – 17 inch neck), and Large Size (17.5 – 19.5 inch neck). The fixed length bow offers two advantages: First, the size of the bow will automatically be proportionate to your neck and face. Second, the lack of the adjustment clasp gives the bow tie much cleaner and formal look. If you need to learn to tie a bow then I suggest you view my guide on How to Tie a Bow Tie
Shoes for Black Tie Attire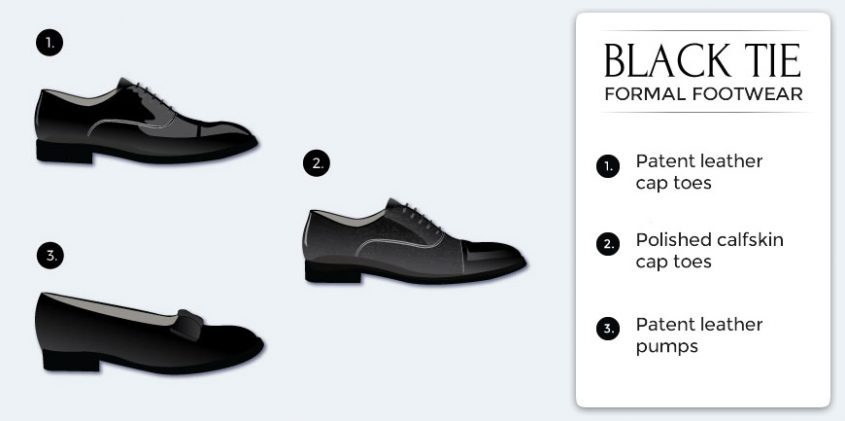 Classic Black Tie Footwear
Black tie footwear is slim, minimal in decorations, and lightweight. Two styles are common for black tie attire: The formal pump, as well as formal lace-up (oxford). The pump is always made from high gloss patent leather while the formal lace-up (pictured) is also acceptable in polished calfskin.
Optional Black Tie Accessories
Opera Scarf
The opera scarf is a common evening accessory that is white in color, has 3-5 inch long tassels, and is either made from finest silk or cashmere. The opera scarf is never tied but instead worn loosely over the shoulders. Traditionally men wore the opera scarf so that they could offer it to their date to stay warm during the opera's intermission.
Cufflinks & Studs
Cufflinks and studs are a must have accessory for black tie attire. The cufflinks have to match the decorative shirt button studs. Cufflinks and studs are usually made from gold, silver, platinum, onyx, or mother of pearl. The metal color has to match your wrist or pocket watch.
Pocket Squares
Another optional black tie accessory is a white pocket square. The type of pocket square fold you choose is personal preference. Formal pocket squares are either made from fine linen, cotton pique, or silk. Best are pocket squares with hand-rolled edges. I am currently compiling a guide with different ways to fold a pocket square. I will let you know as soon as it is finished.
Dress Watch
Some black tie experts will argue that a wrist watch does not belong to a black tie outfit. They argue that "clock watching" does not pair with the celebratory nature of a black tie event. If you do choose a wrist watch, then keep the design simple, sleek, and unadorned. A model with classic black leather band and a thin body is best suited. Another great option is a pocket watch. When choosing a watch make sure that the metal matches the color of your cufflinks and button studs.
Strictly "Black Tie" VS "Black Tie Optional"
On a final note, I wanted to address a common question that I continually have been getting asked over the years: What is the difference between an invitation that reads "black tie" vs "black tie preferred" vs "black tie optional". To keep things simple, my black tie dress guide above will work for any of these. "Black tie preferred" basically means you should dress in a tux and bow tie, but the host wants to give you some leeway. If you don't own a tux, then a black suit and black bow tie or black necktie would be acceptable. "Black tie optional" gives even more flexibility. Feel free to wear your fancy tux if you like, but a full suit is also just fine. For more information on creative ways to dress for a black tie "preferred" or "optional" event, check out these 10 sample outfits that our friends over at Bows-N-Ties have created HERE