The 5 Best Neckties for Vintage Tweed Jackets
Every man needs to own a tweed jacket! It is a clothing piece that will never go out of style. It is versatile, truly elegant, and perfect for Autumn and Winter wear. Although tweed sports coats originated already centuries ago in the Scottish highlands, it still remains a modern piece that suits hipster inspired street-style, as much as the kind of sophisticated country wear that you might find on Downton Abbey. While certainly a British inspired clothing piece, you don't have to be royalty to afford these classic menswear pieces.. Personally, I found two of my favorite Harris Tweed jackets at a local thrift store for $30. Below I picked out 5 of my favorite tie styles to wear with a vintage tweed jacket. For more tweed style inspiration, you might also want to take a look at this Pinterest Bord.
Repp Stripe & Regimental Ties
Looking for a classic and truly British gentleman's type of look? Then there is not better choice than pairing your tweed jacket with a classic repp-striped tie. Pick a tie that is classic yet still manages to add contrast. Perfect here are rich cherry-reds, burgundy, hunter green, and navy.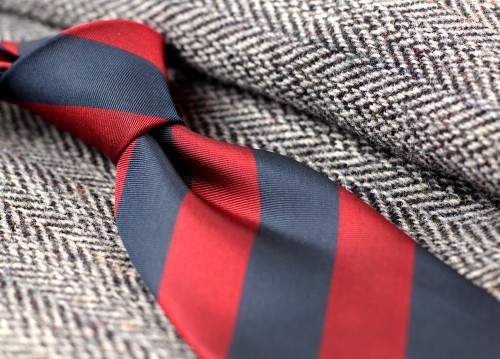 Bold Paisleys
Paisley is a perfect pattern for tweed jackets. While the paisley does date back to the 16th century in India, it still manages to add contemporary elegance. My tip: choose a paisley tie with bold classic colors in reds, yellow, rich greens, and blues.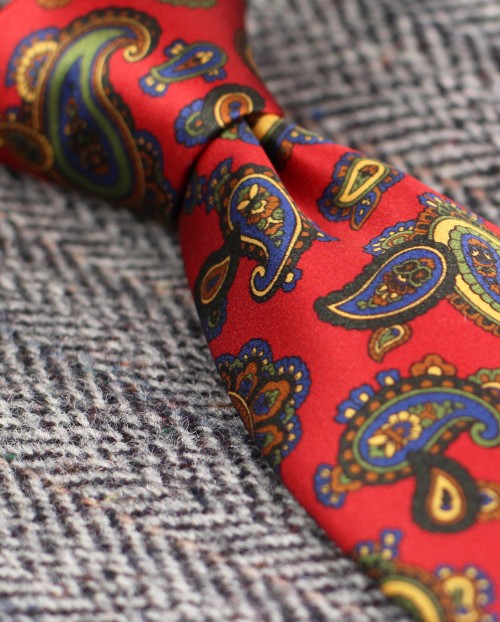 Knitted Skinny Ties
While the tweed jacket certainly suits traditional country wear, it is just as good for the modern man's wardrobe. It all depends on how you accessorize this piece, and the modern knit skinny tie will do a perfect job. Pair this combination with a blue chambray shirt, fitted jeans, and vintage leather boots.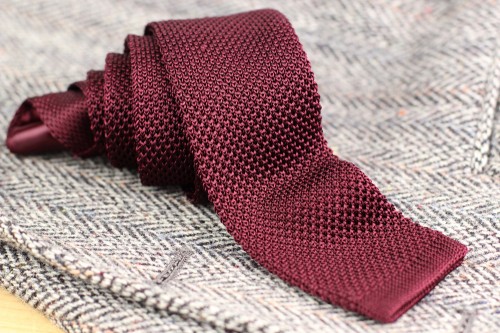 Wool Striped Ties
Another perfect piece that adds more modern flair to your vintage tweed jacket are skinny cut neckties made from wool. The coarser wool on the ties is not only a perfect compliment to the colder winter season, but it also adds interesting texture. The skinny cut of the tie (ideally 2.5″ – 2.75″) adds a younger and hipper feel.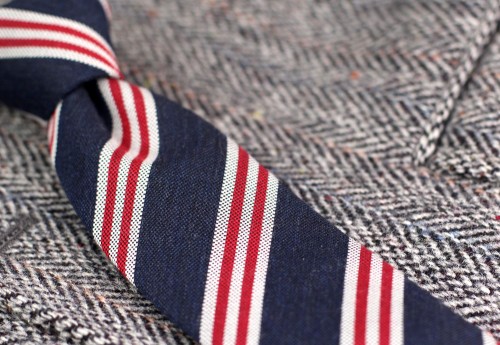 Bold Striped Ties
If all the muted autumn colors are a bit too bland for you, then add more excitement to your tweed jackets with a two-tone colored tie featuring one bold color set agains a more classic hue. The bright golden-yellow and navy striped tie shown below does just that: It adds vibrant color while still complementing a classic look.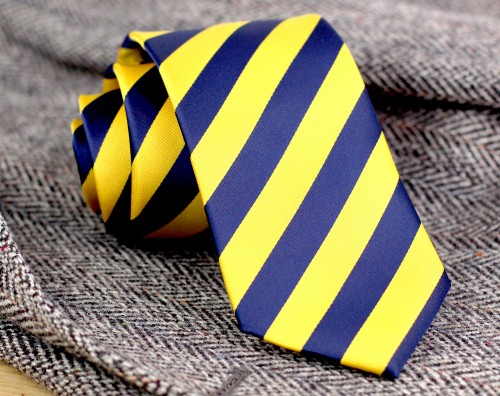 What are your favorite ties to wear with your tweed sports coats? Tell me by leaving a comment below.
Thanks for reading.
Hendrik
Tie Aficionado & Founder of Tie-a-Tie.net