The Power of Paisley – Style & Matching Tips for Paisley Ties


If you have found yourself wearing either striped or solid ties day after day, then it is time for a change. 2013 is all about patterns, layering, and contrast, and few accessories will do as good of a job in doing just that, than a paisley tie. But before you head out to your next Nordstroms in search of the perfect paisley, make sure you familiarize yourself with these basic style tips. Depending on your personal style, I created three looks: "The Sophisticated", "The Dapper", and "The Renegade".
"The Sophisticated"
You like 3-piece suits, classic brass-button blazers, and black tie events. Your tie collection consists of plenty of solids, repp-striped ties, and you even own a few paisleys. While you do own paisley ties, it is time to upgrade your wardrobe for the 2013 season. Pick bold paisley patterns but stick to classic colors such as navy, reds, hunter green, amber, charcoal, and brown. Besides these ties you should consider investing in a few key accessories such as tie bars, paisley pattern pocket squares, vests, and cardigans. Below are a few of my favorite looks found on some of my favorite style blogs, Pinterest, and google images.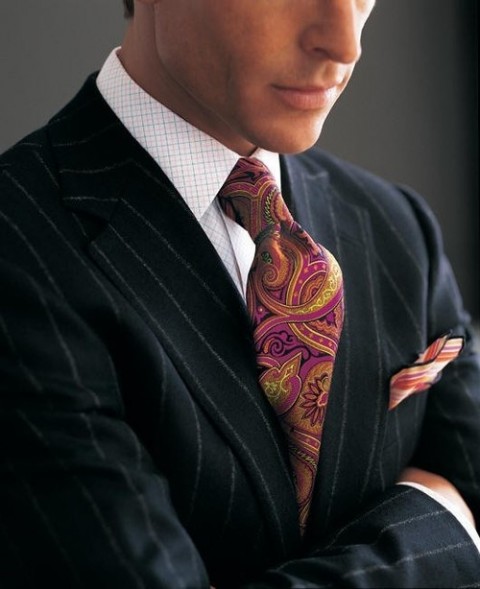 A perfect play of pattern and color! The bold large-scale paisley pattern on the tie is paired with a very subtle micro-check shirt. The strong contrasting pin-stripes on the suit add yet another element to this uber sophisticated ensemble.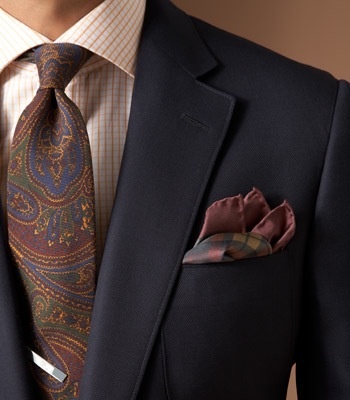 Again, the paisley tie is paired with a pastel colored checkered shirt. The muted colors on the tie as well as the classic navy blue suit give this ensemble a slightly more mature/conservative look compared to the first picture above.




"The Dapper"
You subscribe to GQ, prefer slim ties over wider pieces, and half of all your facebook page likes are for sartorial style blogs. You do own a nice tie collection but I bet that there is not a single paisley tie among them – but this is about to change. Choose slimmer (but not skinny) paisley ties that are about 3 to 3.25 inches in width. Chose bright colors but stick to a monochromatic color theme. Perfect here are pastel tones such as baby-blue, lavender, pinks, and mint-greens. Here are some of my favorite paisley tie looks for "The Dapper" dude in you.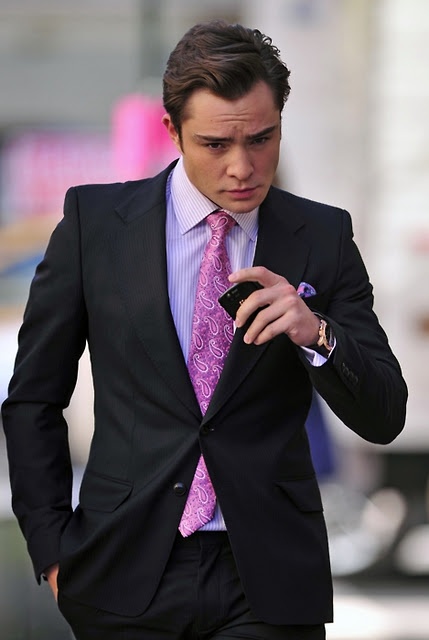 TV character Chuck Bass is not afraid to show some color on his ties. Pinks and lavender are among is favorites. Here he opted for a pink paisley tie paired with a lavender and white striped shirt. If you like a bright and somewhat "flashy" look, then this may be an outfit for you.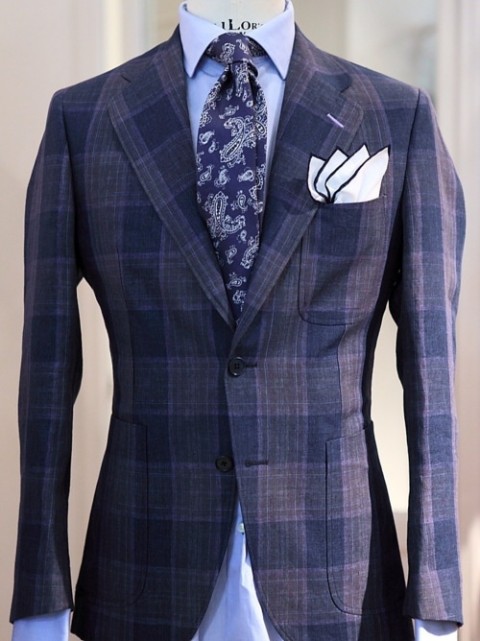 The "Dapper" is not only a fan of bold colors, but also of attention-grabbing patterns. The navy paisley tie is paired with a trendy window-pane check suit, light blue shirt, and a white pocket square featuring navy edging.




"The Renegade"
You don't really care about following a certain trend but instead focus your energy on being different. While you may not be an everyday tie wearer, you too can benefit from owning a few paisley pieces. Best for you are vintage inspired paisley designs in muted colors. Both silk and wool are strong contenders for you. Here are a few looks that my inspire you to experiment with paisley neckties.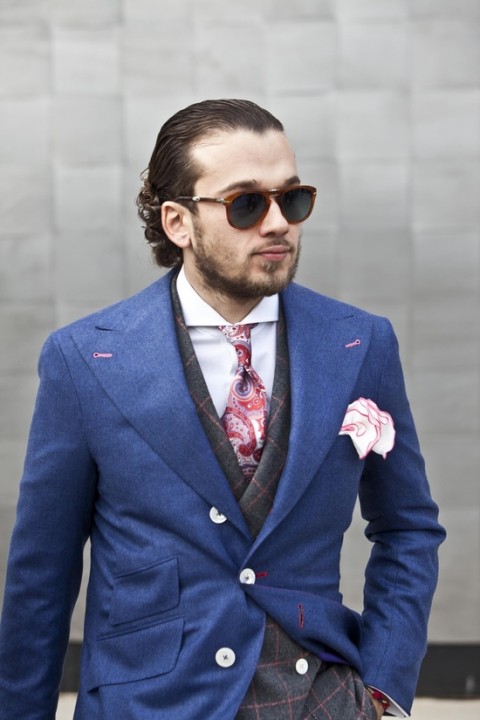 A look that is both flashy yet sophisticated. The pink and coral paisley tie is paired with a window-pane-check sports coat, and double breasted indigo-blue overcoat. The rose colored hanky adds another interesting element while helping tying the colors together.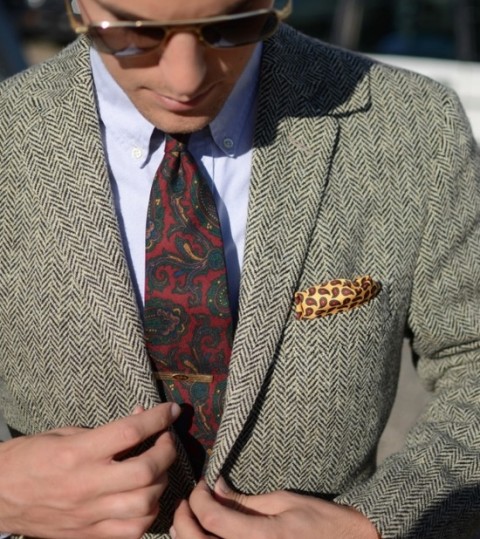 The "Renegade" likes shopping at Vintage stores. The Harris tweed jacket paired with muted paisley tie, golden tie clip, and complementing pocket square shows that vintage can be stylish.




Other Related Posts:
Check Our my New Mens Dress Shoe Guide
Guide on How to Wear Knitted Ties

Thanks for Reading

Hendrik
Tie-a-Tie.net