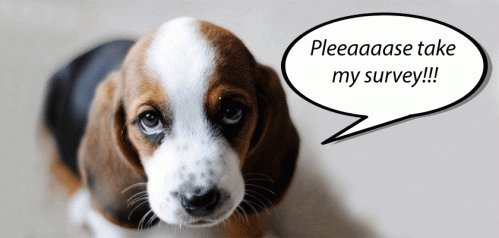 How could you say "No" to this face? I thought that showing a begging puppy might be a good encouragement to take this brief survey. In case this isn't enough, then maybe the chance to win a $250 gift card to our partner site Bows-N-Ties.com might motivate you to spend 30 seconds to answer the few simple questions below.
As you might know, I am  a tie aficionado. To me, a tie is the ultimate accessory that can add a completely new look to any outfit. Be it for a formal black tie event, a job interview, dressing for a wedding, or going on a first date, I am a strong believer that a tie has many benefits outside of being stylish. Now I want to find out if there is indeed a correlation between wearing ties and such things as your career, your relationships, happiness, success, and much more. I very much appreciate your participation! Results will be posted within the next 30 days.
Create your free online surveys with SurveyMonkey , the world's leading questionnaire tool.