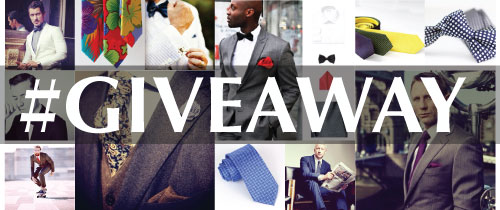 Giveaways have become a popular marketing tool, and they are a great way for us shoppers to get things for FREE. I am always on the hunt for bargain deals for stylish clothing, and what deal is better than getting stuff for FREE. I have tried over a hundred different menswear giveaways. Here are my personal TOP 6 weekly/monthly favorites. Am I missing one that should be on the list? Then leave a comment below and I will consider adding it (after having tried it of course).
My Tips to Boost Your Chances of Winning
Looking for ways to increase your chances of winning? Then here are three simple tips:
Enter multiple giveaways at the same time: Many of these giveaways make you upload a picture on instagram using a certain hashtag. This is a great opportiunity for you to enter mulitiple giveaways simultaneopisly by adding multiple hashtags. It takes a few seconds and will definitely boost your chances of winning.
Post regularly and stick with it: Once you found your favorite giveaways, make sure to engage often (like daily). It only takes a minute or two each day and I guarantee that your work will pay off.
Endorse the Product: If you happen to already own pieces from the retailer hosting the giveaway, then make sure to show it. Take a selfie and post it on different social channels with the required tags. It will get you noticed!
TOP 10 Best Menswear Giveaways: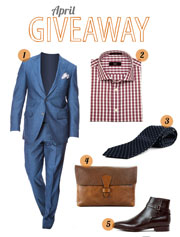 #1: TSBMen Giveaway
TSBMen (aka "The Style Blogger") is a popular menswear blog started by Dan Trepanier out of NYC. Style/menswear really comes natural to Dan. He lives what he preaches. In fact, he has been voted "Best Dressed Real Man in America" by Esquire Magazine. Each month Dan features a new giveaway of an entire wardrobe worth a few thousand bucks that is typically sponsored by several high end brands. Not only is this one of my favorite giveaways (I yet have to win though), but it is also very easy to enter. First, you got a share the giveaway on Facebook, Twitter or Instagram. After that, you simply e-mail a picture of yourself wearing a stylish outfit to Dan. To view, and to enter the TSBMen Giveaways, CLICK HERE. I also suggest you take a look at Dan's tips for taking winning photos towards the bottom of each giveaway. Please comment below if you have any good insight or tips for this giveaway.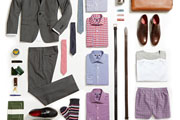 #2 MensStylePro.com Giveaways
MensStylePro.com is another great menswear blog that was founded by Sabir M. Peele out of North Philadelphia. Similar to Dan of TSBMen, Sabir was also voted as one of the "5 Best Dressed Real Men in America" by Esquire Magazine. That being said, Sabir is passionate about style and dressing well. While his blog gives great tips on style, grooming, and lifestyle, Sabir also keeps an eye out for great menswear giveaways (in addition to featuring his own). Each month you will find a handful of different giveaways ranging from a BespokePost sponsored Baume & Mercier watch to a $3,000 wardrobe sponsored by Bonobos. Since each giveaway is different, so are the rules to enter. Click HERE to see the latest featured giveaways.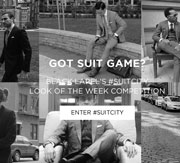 #3 BlackLapel's #SuitCity Giveaway
BlackLapel is an NYC based menswear retailer that focus mainly on high quality, made to measure suits, dress shirts, and menswear accessories. While their pieces are very well priced, the folks at BlackLapel actually give you a chance to get some of their pieces for FREE via their #suitcity giveaway. All you got to do is dress up in suit or blazer, take a picture, and upload it on Instagram or Twitter with the hashtags #suitcity as well as #blacklapel. What I like about this giveaways is the fact that: 1) It is weekly, meaning you got lots of chances, and don't need to wait a month to find out who the winner is; and 2) they often feature other brands such as recently featured pair of Allen Edmonds shoes. To joint this giveaway, CLICK HERE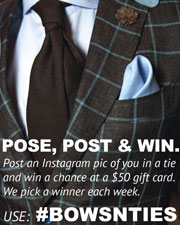 #4 The #bowsnties $50 Instagram Giveaway
Very similar to BlackLapel's #suitcity giveaway is the Instagram giveaway by online neckwear retailer Bows-N-Ties.com. This means you can in fact enter both giveaways simultaneously. To enter this giveaway, all you got to do is take a picture of yourself wearing a tie and upload it on Instagram with the hashtag #bowsnties. What I like about this giveaway is: 1) it is super easy to enter, 2) a new winner is announced each week giving me lots of chances to win, 3) the prize is for a $50 gift card to Bows-N-Ties.com and not for a particular product, allowing me to pick my own neckties or bow ties, and 4) I get a little bit of fame by having my picture appear on on their Website. To enter this giveaway and for more information, please CLICK HERE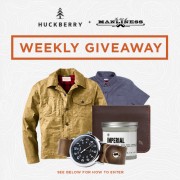 #5 AOM's Weekly Huckberry giveaway
Another great giveaway I recently found, is the weekly Huckberry giveaway which is featured on one of my favorite menswear blogs: TheArtOfManliness.com. Each week you can win any item you see on Huckberry.com – a site that carries cool men's stuff ranging from a pair of designer denims to a must-have tomahawk axe. Not sure what item to pick? Then the blog's founders, Brett and Kate McKay, pick out some of their favorite pieces each week for you. To enter is also simple. All you need to do is: 1. join Huckberry, 2. find an item you like, 3. comment on the weekly giveaway with the item you would like to win. To view, and to enter all the latest giveaways, CLICK HERE.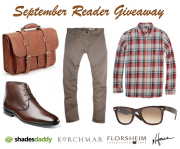 #6 Monthly Giveaway by HeSpokeStyle.com
HeSpokeStyle.com is a menswear blog started by Brian Sacawa out of NY. Brian is an accomplished saxophone player who also happen to have a great eye for style. His blog is definitely worth a visit, and his Lookbook offers some great every day style inspiration as well. I was a little hesitant to feature this site on my "Best Menswear Giveaway" post since his last giveaway ended back in October of last year. But, I have already sent Brian an e-mail – trying to convince him to re-launch his popular giveaways series. I will keep you posted if he does. His giveaways typically feature an entire wardrobe containing items such as a pair of Allen Edmonds and pieces by ASOS. Entering is usually simple, typically requiring you to follow him on Facebook as well as commenting on his post.
Have you entered any of these giveaways, and want to give some input? Did I forget any giveaways that should be on this list? Then let me know by leaving a comment below.