More Style with Plaids & Other Check Patterns
Take a walk down any busy city street, and you'll no doubt be inundated with check patterns. Regardless of season, check patterns are some of the most popular in men's fashion, and can be found in practically any type of piece whether it be a tie, shirt or even a pair of pants. Strangely enough, however, checks are actually widely misunderstood. Many people don't realize that there are actually a variety of different "sub-genres" of the check pattern, each of which is unique to itself and lends itself to particular pieces. The more you can learn about how to properly wear checks, the easier it will be for you to take your fashion sense to the next level. Inspired by the popularity of check patterns in men's fashion, I took a closer look at the 9 most common types, and give you some tips on how to best incorporate them into your daily rotation.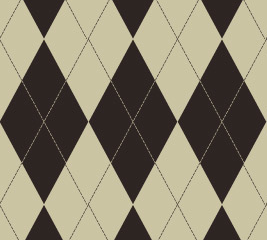 Argyle
Argyle is one of the most popular varieties of checks in men's fashion, and should have a place in any fashion-forward man's wardrobe. Typically, this pattern is made up of an overlapping motif of diamonds and lozenges, which gives it a three-dimensional sense. The result is a pattern that practically screams movement and dimension, which can add texture to even the most basic pieces. The pattern became especially popular in England after WWI, followed quickly by prominence in the US. The Duke of Windsor helped to make the pattern famous, associating it with golf and other leisure sports.
As a pattern, argyle can most often be seen in sweaters and socks. Given the fact that it has somewhat preppy connotations, it's perfect for wearing during the spring and summer seasons with khakis and boat shoes. Golfers prize the pattern still to this day. My tip: Incorporate an argyle cashmere vest to your street-style by pairing it with a harris tweed jacket, knitted tie, and beige colored dress pants.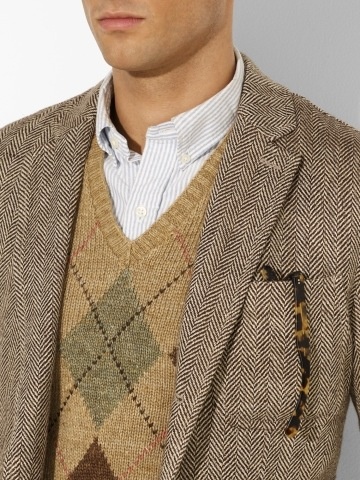 A perfect way to incorporate this check pattern into your daily rotation. The argyle sweater vest is paired with a vintage harris tweed jacket. The only thing missing would be a cognac brown knit tie.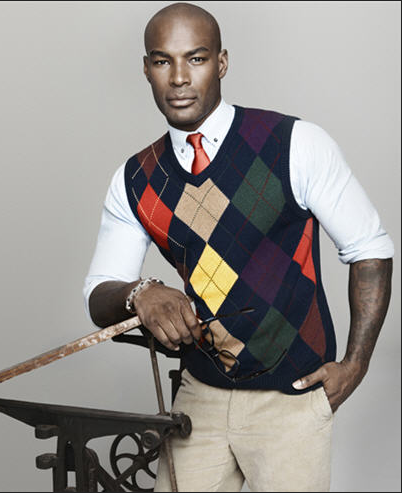 Argyle vests loo excellent when paired with a necktie. The rich orange color on the tie is nicely paired with the colors found on the sweater.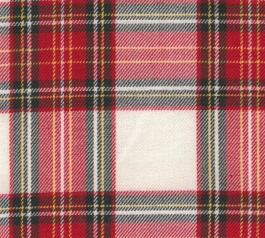 Plaid
Similar in popularity to argyle, plaid is a pattern that has all but completely infiltrated the landscape of American fashion since its inception many years ago. The pattern can be seen virtually anywhere, and typically consists of vertical and horizontal bands of two or more colors that cross one another. It is closely associated with tartan, although there are certain values that differentiate the two.

Plaid is very commonly seen in flannel, although it can just as easily be found in dress shirts. As a result, it's the perfect pattern for business-casual professionals, as well as those who like to embrace the outdoors. It's one of those patterns that will never go out of style, making it ideal as an addition to one's wardrobe. My tip: Wear a plaid flannel shirt with a quilted vest, dark wash jeans, and urban boots.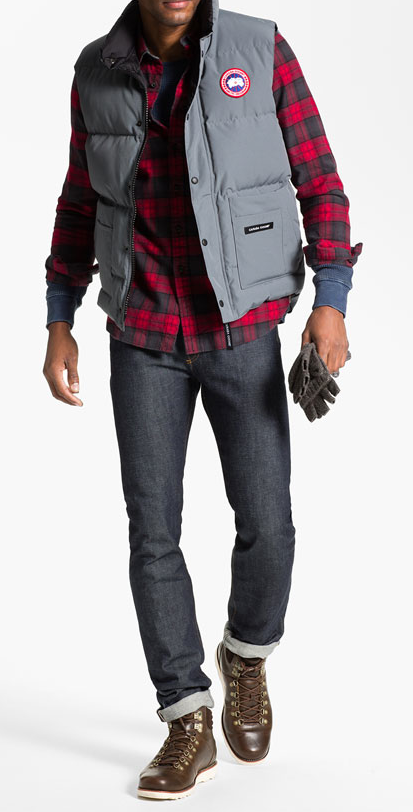 Perfect outdoorsy street-style! The classic plaid flannel shirt is paired with vest, waffle cone long-sleeve shirt, jeans, and urban boots. Picture courtesy of Nordstroms.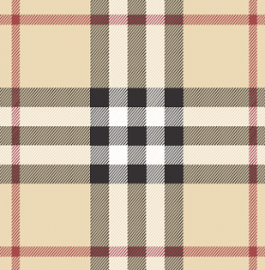 Tartan
As a pattern, tartan is that which is most associated with plaid in today's fashion landscape. In America, it is often interchanged with plaid. Plaid in Scotland, however, is typically a term used to refer to a cloth slung or even a blanket, which is where the differentiation comes into play. The pattern has quite a bit of history, symbolic in that it was adopted as the national dress of Scotland in the 1700s. Consisting of pre-dyed woven threads that weft and warp at right angles, tartan is a very recognizable pattern that continues to enjoy prominence throughout the world.

As with plaid, tartan is often found in woolen pieces such as flannel shirts. Kilts, of course, also utilize the pattern, although to say that the kilt is prominent in modern times would be a rather dramatic misstep. The most famous tartan-check in fashion today is the one made famous by English fashion house Burberry (shown above). My tip: Because tartan is usually quite a bold plaid pattern, it is best left to the smaller accessories. Good choices are neckties, bow ties, umbrellas, as well as cashmere scarves.
Gingham
Gingham, a pattern that once found a great deal of use in the British MOD culture a few decades ago, is once again a very popular menswear pattern – primarily used on dress shirts but also neckties. Consisting of tight, square checks in two colors (typically white and a contrasting color), it resembles what many people might refer to as a "tablecloth pattern." Given the fact that the pattern is laid out in such a way, it does not have a right or wrong side, and can be worn in practically any fashion.
In men's fashion gingham is commonly found on dress shirts, ties, as well as scarves. My tip: Take a gray, charcoal, and white gingham-check shirt and pair it with a charcoal tie made from worsted wool. Because gingham dress shirts very popular these days, I recently added a post titled the TOP 5 Ties for Gingham Shirts. Take a look for some tie matching tips to your gingham dress shirt.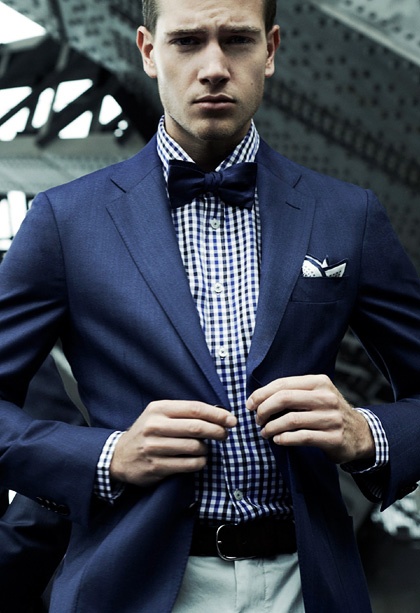 A perfect example of adding the gingham check into your rotation. Here the shirt is paired with solid midnight blue bow tie, sports coat, cream colored chinos, and contrasting pocket square.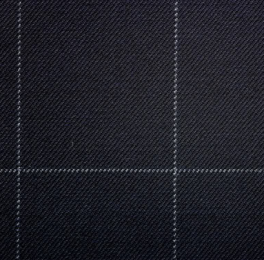 Windowpane
While many people don't know this pattern by name, windowpane is actually quite commonly found in men's fashion. This pattern consists of very wide checks, often in white or offwhite. It gets its name from the fact that the pattern does indeed look like a series of window panes, which adds quite a bit of dimension to practically any piece it is applied to.

Perhaps the most common application of the windowpane pattern is in the men's suit. Windowpane outlines can look extremely attractive on the right suit, especially when the pattern outline is an attractive shade of grey and subtly melds into the piece. My tip: work with a tailor and create a well fitted double-breasted suit featuring this unique pattern. Also great in combination with window-pane check are 3-piece suits as well as sports coats.
One of my favorite looks of a window-pane suit. The earthy colors, and the tweed herringbone tie make this a perfect ensemble come early Fall.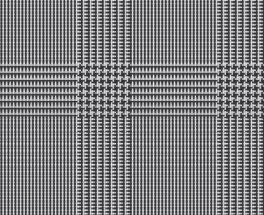 Glen Plaid
Glen Plaid is a pattern seen not quite as often in America as in other parts of the world, although some Americans still swear by it regardless. Glenurquhart Valley in Scotland is where the pattern gets its name, and it also sometimes goes by the Prince of Wales check, as the Duke of Windsor helped to popularize it. Typically, this pattern consists of tightly woven small and large checks in muted colors, often utilizing greys and whites as well.

The Glen Plaid pattern is usually seen in woolen goods; cabbie caps commonly utilize it. Pee-wee herman actually helped to popularize Glen Plaid, as his trademark suit made use of the pattern. My tip: Go for the vintage look of a glen-check patterned sports coat. Chances are you will find the perfect piece at a thrift store for less than $50. Pair this piece with narrow striped shirt, dress pants, and a crisp white pocket square.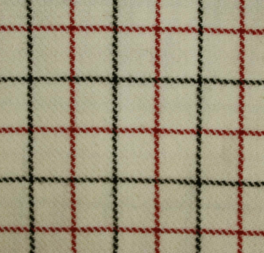 Tattersall
Tattersall is one of the more interesting forms of check patterns, as it truly has a look and feel all its own. The "square within a square" look is formed by vertical warp stripes that intertwine with horizontal weft repeating stripes, which tend to be in alternating colors from one another. Prominent in London as far back as the 18th century, Tattersall still remains popular today.
Since this pattern is all about contrast, it can very often be found in dress shirts, as well as waistcoats. While casual in design, it adds an air of sophistication to practically any piece that it is added to, and is perfect for the modern man. My tip: add at least one or two tattersall check shirts to your rotation. These pieces pair exceptionally well with repp-stripe as well as solid colored ties.
Madras
Originating in East India, Madras is a pattern that many people see daily, yet don't know the exact name of. This is a very summery fabric that consists of checks and stripes in muted, yet soft and vibrant colors. The checks that are formed from Madras tend to be uneven, which gives a sense of depth and dimension to the pattern.
Typically, Madras is associated with preppy attire, and can often be found in shorts and chinos. Since it is ultra-casual in nature, it isn't usually found in business attire. My tip: take a colorful madras-check necktie made from cotton and pair it with a cream colored suit – a perfect look for the next summer wedding you are attending.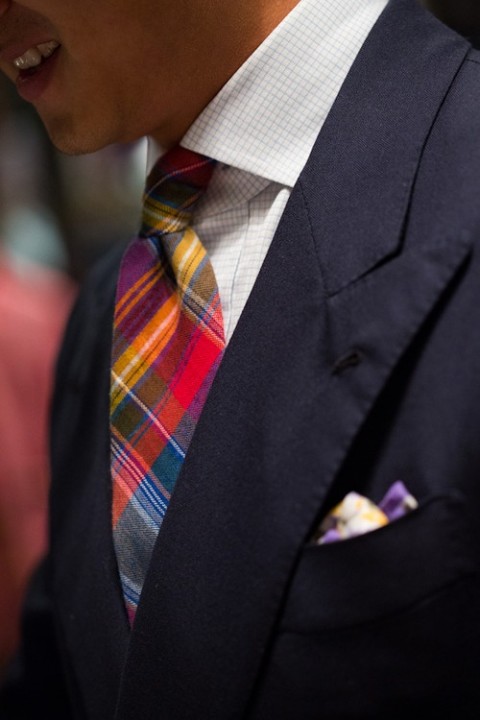 A perfect summer look! A colorful cotton tie with madras check is paired with a micro window-pane check shirt, and double breasted navy blazer.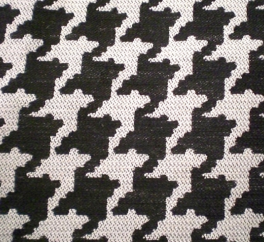 Houndstooth
Houndstooth is one of the more interesting check patterns, as it is quite loud, yet often seen in various aspects of men's fashion. This pattern consists of a tight weave of broken/uneven checks; it gets its name from the fact that the checks literally look like dog teeth. Traditionally in black and white, houndstooth can also be seen in other colors as well.

While the pattern is sometimes found in ties, it can most often be found in certain types of hats such as cabby caps. It has a throwback, retro quality to it, which many people find to be one of its strong points. My tip: because houndstooth is quite an attention-grabbing pattern, use it carefully. Personally I enjoy this pattern as inner lining for contemporary sports coats, as well as neckties.