How to Wear Pink Ties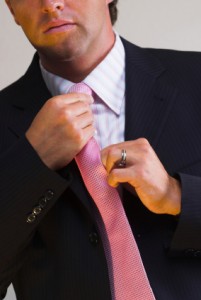 Ever since celebrity and business tycoon Donal Trump showcased the solid bright pink tie on his TV series "The Apprentice", businessmen all over the US coming from all industries are adding pink ties to their collection of neckwear. Before you add a pink tie to your ensemble however, there are a few basic dress rules you should follow. Below I am outlining three main conundrums for wearing the pink tie.
#1 Season:
Just like it is considered a fashion Faux Pas to wear white pants after labor day, pink ties should only be worn during the spring and summer season. Wearing a pink necktie with a tan colored suit on a cold and rainy day during Fall just doesn't look right. Thus, reserve your pink ties for the months from March through August, and avoid the summer look the pink tie during rainy, cold, and overcast days.
#2 Suit Colors & Patterns:
Since pink is a color for spring and summer it must be matched with a complementing outfit. Excellent suit colors for pink ties are tan, beige, navy, light gray, and even charcoal. Just as important as the suit color is the fabric. Match the pink tie with a summer suit made from a lighter wool, cotton, seersucker, and even linen. What you want to avoid are heavy fabrics and darker earth-tones such as olive and dark brown. Just like the fabric should be lighter in weight, the pattern should be delicate and subtle. Perfect suit patterns are fine pin-stripes, very light checks, as well as solids.
#3 Accessories
Just like the suit color, fabric, and pattern need to harmonize with the "summer look", the accessories you choose need to be equally "summer like". Should you decide to add a pocket square to your ensemble then a matching pink one would be perfect. (You may also want to read my guide on How to Fold a Pocket Square). Dress shoes should have a thinner and lighter sole that is preferable made from leather rather than a winter-like rubber. Excellent shoe, and also belt colors, are any shade of brown as well as classic black.
May I also Suggest:
Ties & Pocket Squares
Style Tips for Skinny Ties
Thank you for visiting my site!
Hendrik