Tie Color Psychology: Match Your Tie Color to Your Personality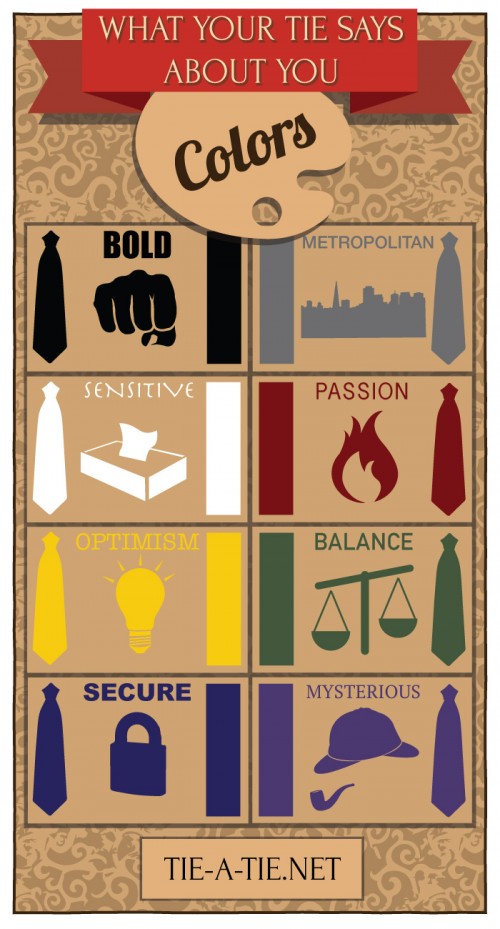 That colors can evoke certain feelings and emotions is nothing new. Psychologists have been talking about the "psychology of colors" for decades now. Companies for instance are using specific colors to emphasize a certain brand image that they want to portray. Take the household cleaning company 7th Generation for instance. Their logo is green to underline their stance on environmental sustainability. Just like companies are using colors to evoke certain emotions and responses in their customers, so can a man by picking certain clothing colors. While suits and shirts typically don't leave much room for color, it is the necktie that is the perfect accessory to take advantage of "the power of color". Below are six common tie colors. Choose the color that suits the occasion and your personality.
Red Ties

The bright red necktie is commonly referred to as the "power tie". Red is an attention grabbing color that is commonly associated with passion, power, love, and authority. Because it is such a "loud" and attention grabbing color, I suggest you use it carefully on your selection of neckties. Unless you are looking for a bold look that makes you center of attention, stay away from bright red neckties. Red ties look nice with navy, gray, and charcoal suits. If you are looking for a bright and lively tie color, but don't want the bold look of the bright red tie, then your best bet are red shades that contain a larger potion of brown – which brings me to the next tie color: "Burgundy"
Burgundy Ties

Ties in burgundy and other dark reds (cherry, maroon, crimson, etc.) are popular in the world of neckties. They are timelessly elegant and suit any season. Burgundy is a color that pairs the power of red with the maturity of brown – thus making an excellent choice for business. There is a reason why cherry and burgundy red ties are popular in politics!


Navy Ties

Blue is men's favorite color. It connotes a calm and soothing nature, elegance, and maturity. It is not surprising that the navy blue necktie is the most commonly sold tie color. It is timelessly elegant and can be worn in spring as well as winter. My tip: Pair the blue tie with a contrasting suit and shirt to create a more interesting look. A solid navy blue tie would look great when paired with classic white shirt and a light gray pin-striped suit.
Light Blue Ties

Light blue ties are most popular in the spring and summer month. It is, compared to navy, a much more playful color that evokes youthfulness and liveliness. My tip: pair the light blue necktie with your charcoal gray suit – a perfect business look for the spring and summer months.




Pink Ties

Pink is a color that pairs the passion of red with the purity of white. It is therefore often called the "romantic color". In the world of neckties, pink is commonly spotted on designers' spring and summer collections. My tip: wear a solid pink tie in combination with a light rose colored dress shirt, navy pin-striped suit, and light rose colored pocket square – the perfect look for a date at a fancy restaurant. I guarantee that she will be impressed! For more information you may also want to read my recent blog post titled: Matching the Pink Tie
Orange Ties

Orange is sometimes called the "happy color". Depending on the shade of orange, it can be worn in spring, summer, and fall. For the spring, brighter and pastel orange ties are popular. Check out Hermes' collection of pastel and peach colored neckties out of this year's collection for instance. While lighter shades of orange are great for the spring and summer, darker orange (burnt orange and persimmon) are excellent fall colors. They remind me of turning Autumn leaves!
Yellow Ties

Yellow is a cheerful color that is typically only seen in tie designer's spring and summer collections. It is not a popular color for business since it can be perceived as "too playful". My tip: Wear a bright lemon yellow tie for the next summer wedding you are invited to! Yellow ties look excellent in combination with navy and/or beige colored suits.



Black Ties

That black is a formal color shouldn't be news to anyone. For a reason we speak of Black Tie dress code. Black ties are common for formal evening functions when paired with white shirts, black or charcoal suits, and black dress shoes. Looking to wear the black necktie in a more casual setting? Then my tip: Wear a solid black skinny tie (tied with a loose Four in Hand knot), a white dress shirt with top button left undone, a pair of designer jeans, a trendy tweed sports coat, and a pair of sporty loafers or so-called "driving shoes". For more information please also check out my: Tips for Skinny Ties
White Ties

White is a "pure" color. While common on a man's dress shirt, it is typically only used as an accent color on the necktie (in form of white stripes, checks, polka dots, etc). Solid white ties are rare in business but are great for a casual/trendy look. My tip: Wear a solid white skinny tie with a black dress shirt, washed designer jeans, and a knitted cardigan sweater.


Green Ties

Green is a color that is commonly associated with nature and the environment. When thinking about wearing green ties you will have plenty of choices. Especially the spring and summer months are great for showcasing a light lime-green necktie paired with a summer suit in blue, light gray, and/or tan – another great ensemble for your next summer wedding invitation.


Brown Ties

Brown is commonly referred to as "the mature color". If you are looking to portray a mature and established personality, then the brown necktie is right for you. Brown ties are especially popular in the fall season. My tip: stay away from a suit, shirt, and tie combination that pairs too many "earthy colors" – it will make you look like a park ranger. Instead pair the brown tie with a navy suit, off-white dress shirt, and dark brown dress shoes.
Purple Ties

Purple is often times referred to as "the royal color". Purple is a shade that is commonly associated with nobility but also with religion. Depending on the shade, purple ties can be worn in spring, summer, and fall. For the spring light purples (such as lavender and iris) are excellent especially when paired with tan or light gray summer suits. For the fall season darker purples (such as plum and eggplant) are great choices for the man seeking to add some interesting color to his business uniform.
I hope you found my tie color guide helpful!
Hendrik
Tie Aficionado & Tie-a-Tie.net Founder