Style Tips for Knitted Ties

Just a few weeks ago I wrote an article on "Ties for Fall/Winter 2012", and the knitted wool tie was among the three featured must have styles. Knitted ties have gained a huge amount of popularity over the past few months. GQ and Esquire have both been featuring men wearing knitted ties on their cover, and by now most designer labels offer a few knit ties in their current collection. When worn correctly, they are excellent accessories – not just for the Fall and Winter, but also for the warmer months of the year. To keep you from committing major knit tie fashion Faux Pas, I wrote this Style Guide:
Finding the Right Size:
Typically knitted ties look best when slightly narrower in width (2 to 2.5 inches). Some designers do make wider knitted ties (about 3.25 inches) which are great for wearing double breasted suits, and jackets with wider peak lapels.
Knit Tie Colors
The color depends on the season. Darker, muted shades suit the colder months of the year while brighter, more vivid shades should be reserved for the warmer days in spring and summer. For the Winter in 2012/12 knitted ties in charcoal, maroon, and dark navy are great choices.
Popular Patterns
Solids and horizontal stripes are most popular. Personally I like the simplicity of the dark solid knits for the Winter. In my opinion the knitted fabric texture adds enough contrast as is. Another favorite of mine are knitted ties with small polka dots (see images below). Looking for something different? Then you may fancy knitted ties featuring a different colored tip.
Tying a Knitted Tie



To compliment the more casual looking fabric texture of the knitted tie, slightly asymmetric tie knots are best. The best (also the easiest knot) here is the so-called Four in Hand (see instructions above).
Some Matching Inspiration
A did a little bit of searching for examples of well matched knitted ties. Here are some of my favorites. For more inspiration, please check out this Board on Pinterest.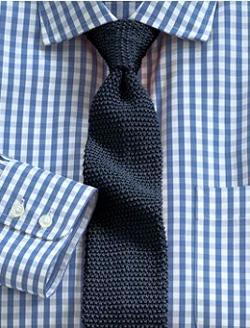 Great combination: Solid navy knit tie with blue gingham shirt. Pair this combination with gray tweed sports coat and a pair of well fitted blue denims.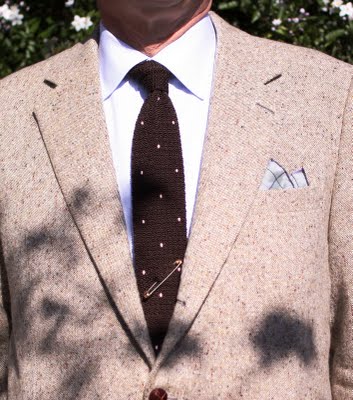 Sartorialist Will Boehlke (Asuitablewardrobe.com) shows us the sophisticated side of the knit tie. Note how he compliments the coarse fabric of the knit tie with the tweed jacket. Also note that Will chose to pin the tie to the shirt.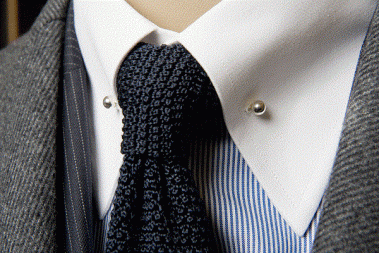 Accessorizing a knitted tie: While tie bars and tie clips usually don't compliment, collar bars are a great way to add elegance and a more personal note when wearing a knit tie.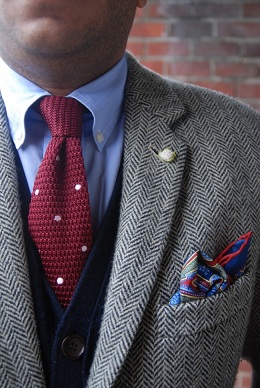 Layering: Note the navy cardigan sweater layered under the Harris tweed jacket. Also worth pointing out is the slightly more casual looking button down collar shirt as well as contrasting textured silk pocket square.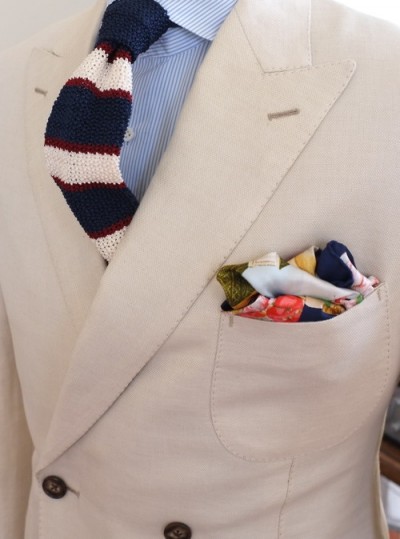 Summer Pairings: The cream colored stripes on the knitted tie give this piece a summer look. Perfectly paired with a cotton suit (note the double breasted style). finely striped blue shirt, and vivid colored silk hanky.
Thanks for visiting my blog at Tie-a-Tie.net