After taking a short break from my menswear insider series, I am opening the discussion again by featuring one of my favorite Tumblr pages – a site that obsesses about men's ties almost as much as I do. I am talking about TheTieGuy, a photo blog with more than 60,000 active followers (and growing). I had the chance to chat with the creative mind behind this page: Taylor Camp.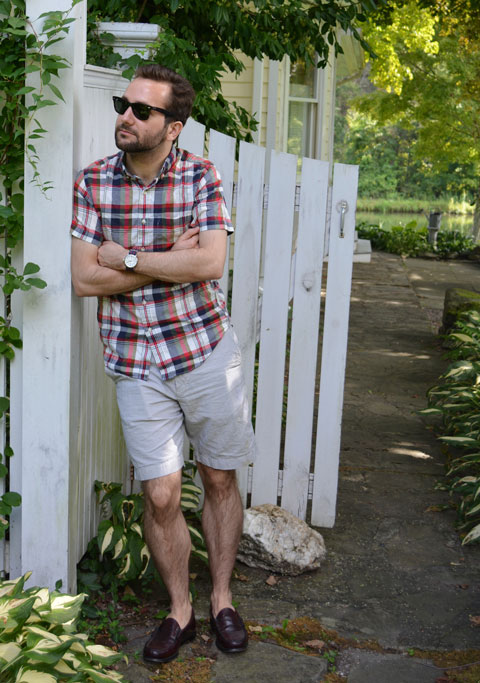 Tie-a-Tie.net: Hi Taylor, thanks for joining in today on my Menswear Insider series. You are better known as The Tie Guy through your popular Tumblr page. What inspired this name?

TheTieGuy: Hi Hendrik! Thanks for giving me this opportunity to be interviewed! Once i started dressing better the name behind The Tie Guy simply clicked. The Tie Guy first started on Tumblr and then eventually expanded to both Twitter and more recently, Instagram.
Tie-a-Tie.net:You are 24. Most young men at your age don't care too much about wearing ties. How long have you been a tie aficionado? What sparked this interest in ties and menswear?

TheTieGuy: I've been interested in menswear and neckties for about four years now. I started buying ties for exactly one dollar from local thrift stores around my area. As i continued to shop at these thrift stores, i eventually started buying dressier pieces like overcoats, blazers, dress shoes and sweaters. I remember thinking to myself "Wow, i can use these stores as resources to look great AND spend very little money on clothing!". Ever since i realized this, I've been slowing curating a wardrobe for myself.
Tie-a-Tie.net: Being an expert on ties, who do you think makes the highest quality ties if there was no budget?

TheTieGuy: Any of the extremely expensive Italian clothing companies. Some of these include: Kiton, Brunello Cucinelli, Borrelli, Isaia, Hermes (French), and Bulgari just to name a few.
Tie-a-Tie.net: Assume you had to spend $100 on clothing today. Where would you shop and what would you buy?

TheTieGuy: I would shop at either Gant Rugger or Suit Supply. I would either buy a nice knit or paisley tie or a shawl collared sweater.
Tie-a-Tie.net: What if it wasn't $100 but $1,000?

TheTieGuy: I would still be shopping at both Gant Rugger and Suit Supply. I would by myself a three piece suit.
Tie-a-Tie.net:You are quite the spokesman of these two companies. What do you like about these two companies/brands? If you could only pick one clothing brand for your entire wardrobe, who would you choose (from any, not just these two)? Why would you choose this brand?

TheTieGuy: I like how classic both these companies are. The products they sell are made with care and aren't rushed. They sell pieces that will last you a long time which i think more companies need to look into. Quality and not quantity!
Tie-a-Tie.net: TheTieGuy is one of the most popular tumblr pages on menswear with over 60,000 followers. How did you become so popular?

TheTieGuy: I became popular on Tumblr by using it and interacting with my followers every day. It was a series of events that lead me to where i currently am. First, Nick Wooster AKA "Woostgod" recommend my blog on fashiontumblrblogstofollow.com and previously over the summer, Tumblr contacted me and added my blog to a list of suggested street style blogs to follow under the explore section.
Tie-a-Tie.net: Talking about Nick Wooster and street style blogs, who are some of the blogs that you follow?

TheTieGuy: My two favorite street style blogs are Themidwestyle and TheSartorialist
Tie-a-Tie.net: It is clear that you have a strong interest and good eye for the menswear industry. What are your plans for the next couple of years, after you are done with school?

TheTieGuy: After i graduate this upcoming summer, i have plans to live and travel in either Italy or Japan. Through traveling and living in one of these places I've always been inspired by, i hope to my expand upon my current love for food, red wine, coffee and most importantly, menswear. After I come back from traveling next January, i hope to live and work in either San Francisco or New York City and pursue my career goals of working as a Social Media Manager for a mens clothing company.
Tie-a-Tie.net: What about your tumblr page? Will you continue to run it? Would there be a way to turn your Tumblr page into a viable business?

TheTieGuy: I will continue to work and focus on my blog every day. I hope to continue to make some money from it and eventually turn it into a full time business.
Tie-a-Tie.net:Thanks for meeting with me today, and best of luck to you!

TheTieGuy: Thanks, Hendrik