For today's interview I am excited to feature men's style expert Antonio Centeno. I have personally known Antonio for several years now, and his passion for the industry is truly inspiring. He is not only a respected menswear blogger but also the founder of a custom tailoring business. Needless to say, I am excited to feature Antonio on my menswear insider series.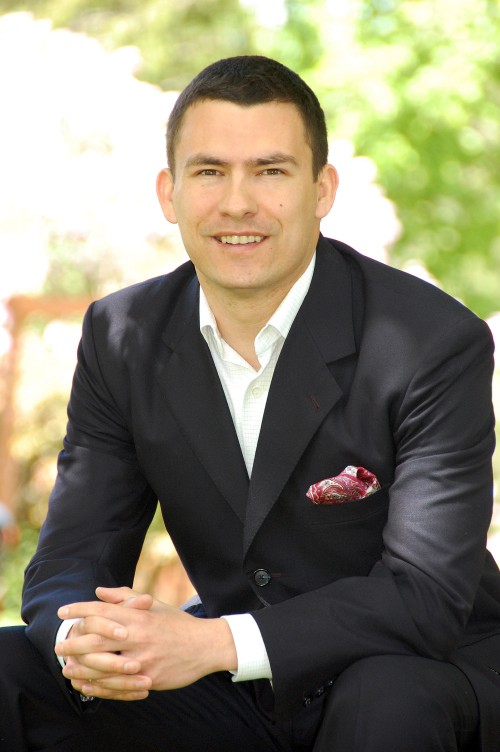 Tie-a-Tie: As a military veteran, you have quite an unusual background for a fashion blogger. What inspired you to get into the menswear industry and start a bespoke clothing business?
Antonio: My introduction to custom clothing came when I got married in Ukraine in 2004. Looking around the clothing shops there I could only find badly fitted off-the-rack suits made from cheap material or very high-end luxury Italian suits, with no middle ground. I wanted something good for my wedding, but didn't need a $10,000 novelty! Finally, I found a traveling tailor from India who rotated between cities in Russia and Ukraine. He fixed me up with a custom suit and three custom shirts for $1200, and my interest was born.
Fast-forward two years to 2006, when I was in business school at the University of Texas and found myself needing a good interview suit. Remembering my experience in Ukraine, I looked around for a custom tailor and found Jack out of Hong Kong who made three suits ten shirts for me. Jack's situation impressed me. Here was a guy with a pretty basic education who was making hundreds of thousands of dollars and only working six months out of the year, serving a client base that was mostly located right there in Texas (although he did have some customers further afield in the United States). That got me thinking that there was room in the tailoring industry for someone who could bring a business school education and some creativity to the market. I founded ATailoredSuit.com at a time when there were almost no custom tailoring businesses online, especially for men — looking back on it, I think I remember looking and finding exactly one other business trying it out around the time I was getting started.
So the idea was novel, back then: you could take your own measurements, send them to me, and have a custom-tailored wardrobe delivered to your door within weeks! Realizing that my clients needed to trust my judgment and my understanding of style to make that investment (my suits are not cheap), I started putting some articles up on ATailoredSuit.com outlining the basic principles of menswear.
When I realized how much traffic those were drawing, I decided that there was a market hungry for information as well as for clothing, and that's how I ended up creating RealMenRealStyle.com and getting into the business of fashion writing and style education. So it's been a fun journey — but if I had to pin it down, it started with my wedding in Ukraine, and with a pair of traveling tailors making custom suits!

Tie-a-Tie: Since you founded A Tailored Suit we've seen lots of new companies emerge in the online bespoke menswear sector. Do you think there is still potential for new companies offering custom menswear online? Or is this now an oversaturated market?
Antonio: I do think it's more saturated, but I don't think it's oversaturated. If you can bring in a unique offering, you can make it. What I don't see is enough companies leveraging unique advantages to make their companies easy and tempting to use.
My twist on custom tailoring for ATailoredSuit.com, in addition to the online ordering, was to focus on complete wardrobes. The goal was to make it easy for a guy to come to me and to have all his dressing-up needs taken care of in one go, without much thought or effort on his part.
That has a lot of appeal to a section of men that wants to look good but doesn't want to spend years building a painstakingly selected wardrobe from many sources. If I could convince customers that I was a reliable designer of menswear — which is what the style articles were originally for — I could become a one-stop shop, and that was my unique advantage.
So there's still room for new companies. But they need to be looking for a specific customer base, and they need to be thinking about how they're solving a specific problem for that customer base.

Tie-a-Tie: How would you describe your own personal style?
Antonio: Simple, understated, and functional. No need to go into too much more detail there — I stick to the classic look and let it speak for itself. A lot of suits and jackets, of course, but I do wear jeans and more casual sweaters and coats as well.

Tie-a-Tie: After launching ATailoredSuit.com you started a successful menswear blog at RealMenRealStyle.com, which offers style advice. What made you branch out from a business offering physical goods to one offering information?
Antonio: Once the site was up, I found myself receiving tons of phone calls and e-mails from people who wanted to pick my brain for style advice. And as much as I wanted to help people, I didn't have time to answer them individually.
When I put a few basic style information articles on my website and saw traffic go way up, I realized that there was a lot of appetite for information, even from people who could never afford one of my suits or wardrobe packages. Around that time I was also approached by Brett McKay over at ArtOfManliness.com to be one of his first style writers, and I saw how successful and popular the business of information was for him.
That was when I started giving out a free e-book of my best writing to site visitors. From there I moved to setting up RealMenRealStyle.com, which started out offering nothing but free advice. Since then I've been slowly introducing new ways of delivering information, like online seminars and college-level courses in men's style. And they've all proven popular — there's still a huge demand out there for good fashion advice presented in an easily accessible manner.

Tie-a-Tie: What do you think is the biggest faux pas or style sin that men commit?
Antonio: Not caring. If they don't understand why it's relevant, they're never going to make any other changes. I can tell when a guy doesn't care. It's very easy to spot. Most men you see look completely generic. They're not making any effort to set themselves apart from the crowd.
My target customer isn't a guy who wants to blend in. I sell my products to men who want to be great and do great things. Those are the men who can use the power of clothing and style to get what they want out of life. If you don't care about something as basic as your own appearance, it's like you've already given up on life.

Tie-a-Tie: Why do you think dressing well is important?
Antonio: I don't think it — I know it. There's tons of science that backs this up. Google "the halo effect" and you'll see how a general positive opinion based on first impressions will color everything people think about you from that point on.
It doesn't have to be a rational impression. Think about Steve Jobs and Bill Gates: everyone always loves to praise Steve Jobs as this huge innovator and creative genius. No one ever says that about Bill Gates, or at least no one outside the tech industry. When he's not vilified, he's made into a cartoon stereotype of a computer nerd.
None of us actually know these guys. But we have emotional impressions from their products that we associate with them: Apple is sleek and futuristic-looking; Windows is colorful and cartoony. Steve Jobs wore minimalist black; Bill Gates had big glasses and frumpy pants. So those impressions spill over into how people talk about the men and their personalities, even though the visuals don't have much to do with how the men's brains worked.
Clothes do the same thing. Strangers look at our clothes and think of them as either "good" or "bad" looking. Then they associate those good or bad qualities with us, and their minds are very resistant to changing that impression. Well-dressed men get the benefit of the doubt where the rest of their character is concerned. Poorly dressed men just get the doubt.A good style lets you say great things about yourself before you even open your mouth. That's very important.

Tie-a-Tie: What are your favorite clothing stores, either online or brick and mortar?
Antonio: Well, when you manufacture your own clothing, you don't do as much shopping as other people. I wear a lot of my own suits, jackets, and dress trousers. Shirts I also mostly make for myself, but I do have some from 5th & Lamar, out of Austin, TX. I wear Lee and Levi jeans, and I highly recommend the company Brown, Diem for guys that can afford custom denim.
For shoes I like Paul Evans, and I have an amazing pair of winter boots from ShoePassion.com — a great company for men who can afford some serious footwear.I like the look of the guayabera shirt, which is a Cuban / Mexican style, and I get mine from DaccordInc.com.
Luggage and bags I mostly get from Blue Claw Co. and Saddleback Leather Co., and smaller leather items I like to get from handcrafter Kenton Sorensen. I also like Rogue Wallets for their slim, RFID-shielded wallets. And lately I've been keeping an eye on Satya Twena of New York for headgear and classic men's hats. Finally, it should go without saying that I like Bows 'N Ties for neckwear!

Tie-a-Tie: What are your plans and goals for RealMenRealStyle.com in 2014?
Antonio: The big thing will be putting out more videos and starting a podcast. There will also be more online courses and other ways of packaging information — I'm all about finding new ways to get information out there, since every man has his own preferred learning style.

Tie-a-Tie: Where do you see yourself ten years from now?
Antonio: I'll probably be focused more on military issues and working with veterans. I've really enjoyed building High Speed Low Drag with John Dumas of Entrepreneur On Fire. HighSpeedLowDrag.org is a website that focuses on the transition from military to civilian life. It's a great project that we're going to give more love and care to really get things rolling. That's an issue I care a lot about, and helping other veterans succeed is definitely something I'm going to be working on over the years to come.

Tie-a-Tie: That's great! Thanks again for joining me here today, and best of luck to you.
Antonio: Thank you as well!