Are you interested in the mens fashion industry? Then my new interview series titled "Menswear Insider" might give you some interesting insight on what it takes to succeed in the competitive menswear industry. Each week I will be interviewing up-and-coming movers & shakers, and get their insights, thoughts, trend forecasts, and business tips.
In today's interview I'm featuring Joshua Brueckner – the creative brain behind a Brooklyn based necktie tailoring service called SKINNYFATTIES.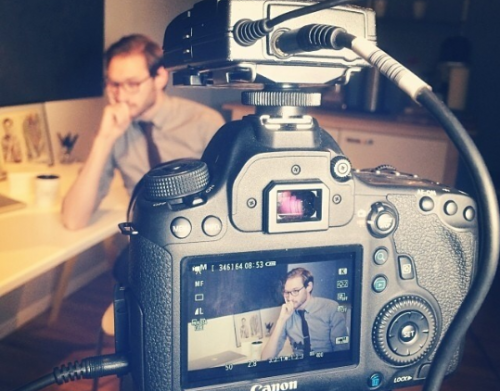 Tie-a-Tie: Hi Joshua, thanks for agreeing to be interviewed here on Tie-a-Tie for my new Menswear Insider Series. Now, first off, what motivated you to start your necktie tailoring business?
Joshua: SKINNYFATTIES began out of necessity. Laid off and in need of job interview clothing, I learned how to tailor what I had in my closet. My friends were impressed by my unique skill of tie tailoring that I decided to run with the concept and turn it into my full-time job. SKINNYFATTIES now donates a portion of our profits to Career Gear, a non-profit organization that helps low income men reenter the workforce.
Tie-a-Tie: Being new to the menswear industry without prior industry experience, what expect ions, if any, did you have about this industry before you started your business? Are they true? Were there things that turned out different than anticipated, and what were the biggest surprises?
Joshua: I had no expectations. At the beginning, I was so focused on refining a service that customers would love and use often that I didn't even realize SKINNYFATTIES could be a leader in men's fashion. It wasn't until major publications took note of the tailoring service that I knew I had a unique place in men's fashion.
Tie-a-Tie: The media certainly has taken notice of you and your service. We have seen your ties in the news. Is there any celebrity that is wearing one of your ties right now? If so, who?
Joshua: Not yet, but I'm dying to get The Pop Collection on Justin Timberlake, Ashton Kutcher and Ryan Gosling!
Tie-a-Tie: That would be amazing indeed. Now, you have already received lots of press including features by DETAILS Magazine, Men's Journal, and CBS. Besides having had a unique business idea, what is the secret to your success?
Joshua: Working 7 days a week full of 14+ hour days. Not just using social media as a tool to talk, but to engage and listen. Never stop thinking about ties. Researching what's been done and how to do it better. "Can I tailor a tie for you?" to anyone and everyone in press. Loving what I do and not imagining doing anything differently in life. Knowing SKINNYFATTIES will be a globally recognized brand. Basically, in short, living and breathing SKINNYFATTIES.
Tie-a-Tie: It is really nice to see such dedication. You have mentioned previously that you still do lots of the tailoring yourself. By now you have probably re-tailored a wide range of necktie brands and fabrics.. Based on the construction and use of fabrics, which designers/manufacturer are you most impressed with, and why?
Joshua: Louis Vuitton. The fabrics are gorgeous to the eye, smooth to the touch and as a tailor, they are great to work with.
Tie-a-Tie: It seems that you get what you pay for with this designer. Now in terms of designs and patterns. You see a lot of unique ties each day, that customers are sending to you from all over the country. Which tie that you have re-tailored stood out to you the most, and why?
Joshua: Paul Smith ties are just plain cool. The tipping patterns on these ties are so uniquely different than the face of the ties, but it always seems to work. I just love it.
Tie-a-Tie: Did Paul Smith design have an influence on your new "POP Collection"?
Joshua: Yes, it certainly did. With the POP Collection customers can not only choose between several widths but they can also opt for different fabrics used on the tipping.
Tie-a-Tie: Being a tie aficionado myself, I know how difficult it can be to make a decision on a tie to wear (because there are so many nice ones). But if you could only own 5 neckties, what would they be? Why would you choose those 5?
Joshua: Overall, because I am 6'1″ and very thin, I only wear 2″ neckties. Here are my top five:
The POP Collection: I'm currently obsessed with the Black & White Gingham front, with the Green tipping/loop fabric mix. A standard black necktie like the Formal Solid Black Silk Tie from Bows-n-ties.com (tailored down to 2″, of course), a classic striped tie, a paisley tie, and a cotton floral tie.
Tie-a-Tie: All excellent choices indeed. You mentioned the importance of matching tie width. As a tie expert you pay attention to menswear trends. What trends in men's neckwear do you anticipate for 2014?
Joshua: I am proud to say that SKINNYFATTIES is a leader in men's neckwear. For years, necktie widths have been dictated by trend. As a tailor, it just doesn't make sense. A 275 lb. man shouldn't be wearing a super skinny tie, just like a super skinny guy shouldn't be wearing a 4″ tie. Ties should be chosen based on body type. That said, we created The Pop Collection, which is the worlds first online tie builder, based on the principle that neckties aren't one size fits all. 2014 says goodbye to being "on-trend" when it comes to tie widths.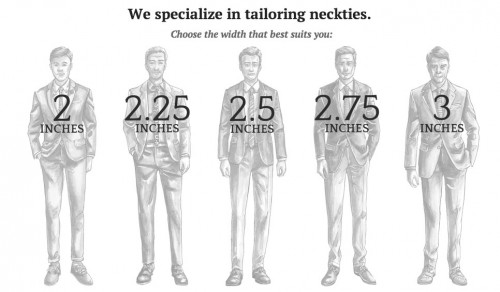 Tie-a-Tie: Being an entrepreneur in the menswear industry, what piece of advise would you give to an aspiring entrepreneur that wants to break into the industry with his/her idea?
Joshua: Don't take no for an answer, but learn to say no.
Tie-a-Tie: A great piece of advice! Now, one last question related to men's neckwear trends. We (Tie-a-Tie) are based on the west coast (San Francisco) and you are in Brooklyn, NY. From your travels to San Francisco, do you see any differences in tie trends between our two cities?
Joshua: Ties are weird. They are that one piece of clothing that men can be as loud as they want with. The most macho man in the world can wear a pink floral tie and not a soul would judge. Whatever city you are in, the great thing about ties is that anything goes and that's why I love my job.
Tie-a-Tie: Well said! Thank you again for agreeing to the interview. I very much enjoyed it and wish you the best of luck and success for 2014.
Joshua: Thank you, and thanks for having me.
Interviewed by Hendrik,owner/founder of Tie-a-Tie.net