Get a Free $10 Gift Card to Online Tie Shop Bows-N-Ties.com
I am excited to announce that our partner site, Bows-N-Ties, offers all Tie-a-Tie visitors $10 off to their store. To get your $10 gift card is easy. All you have to do is click HERE. You will then be redirected to Facebook where you can "like" Bows-N-Ties fan page. Right after doing so you will receive your $10 gift card. I just tried it and it took me less than 10 seconds to save $10.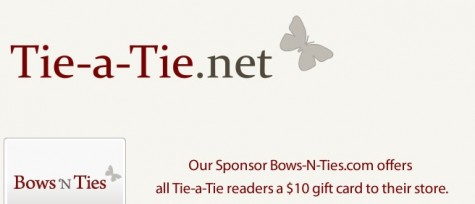 If you regularly wear ties and are looking for some new additions to your collection, then this offer should excite you. Bows-N-Ties is an online tie retailer that carries over 5,000 different ties in stock in any imaginable color, design, fabric, width, and cut. As always, should you have any comments or suggestions, then I would like to hear from you.
Sincerely,
Hendrik