Elegant Business Attire in Black & White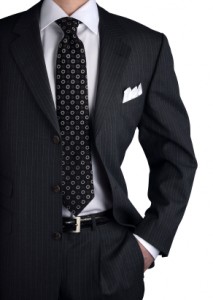 Typically the simpler a look the more formal it will be. It is not surprising that formal dress codes like Black Tie and White Tie consist solely of clothing items in either black or white. Although black and white ensembles are typically considered to be formal and non-business-like, there are in fact ways you can create an outfit using only these two colors that is perfect for everyday office wear. Below are some tips to use only black and white for traditional office attire.
1. Patterns
One way to dress down a formal color is by using certain fabric patterns. Typically the larger and more noticeable a pattern the less formal it will look. Black suits with pin stripes are a perfect example, but also wearing a tie with playful polka dots or intricate paisley design will do the trick of "dressing down".
2. Cuts & Styles
You can also create a more casual look by using more modern and trendy cuts. Suits can have narrow lapels, pants can be straight-cut with no cuffs, dress shirts can have a cut-away collar, and neckties can be slim and skinny. All this will take away from formality, and at the same time will add a trendier touch.
3. Presentation
Even if every clothing item is formal by itself, it can be casual and more relaxed if presented a certain way. Neckties can be worn a bit looser with the top shirt button left unbuttoned, pocket squares can be folded in a more casual way (have the look at the "puff fold" in my tutorial on How to Fold a Pocket Square for instance), and jackets can be left open and loose.
4. Combinations
Color, cut, and presentation are not the only things that can dress down a formal outfit. Also just as effective are adding certain clothing items and/or accessories that are much more casual. A pair for black canvas shoes added to classic black suit, white shirt, and black skinny tie, is a good example.
Other Readings You May Like:
My Tips for Matching a Pink Tie
Matching Ties and Pocket Squares