Famous for Wearing Pink Ties: Donald Trump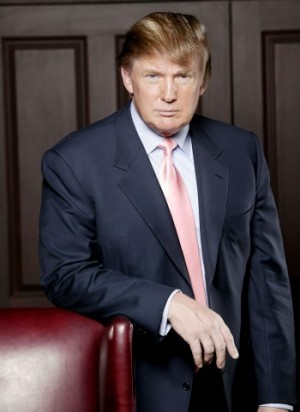 There's no getting around the fact that Donald Trump is one of the most well-known business celebrities in the world. Trump has famously been criticized for his cutthroat, and perhaps sometimes also overly arrogant, approach to business, which has cast him in a poor light in the minds of certain people. This being said, Trump didn't stumble upon his riches blindly, and happens to be a very good example of how effective it can be for one to gain a thorough understanding of business logistics. While his appearance has waxed and waned over the years, most will agree that he has his own unique sense of style when it comes to the ties he wears. It should come as no surprise that someone with Trump's kind of money would have a rather dapper collection of ties in their wardrobe; he even has his own signature line of neckwear through Macy's – something that convinced me to put him on my list (although in last place) of Famous Tie Wearers. The following are just a few aspects of Donald Trump's approach to wearing ties that can help you to gain a better understanding of who he is as a person.
Trump's Style
While a lot of people don't necessarily associate Donald Trump with high fashion, he actually happens to have a very good eye for style. Regardless of what he's doing on any given day, there's a good chance Trump will be seen wearing a suit. Trump's suits tend to be a bit boxy given his figure, although this is not to say that they aren't well-tailored. While he's known to wear suits of a variety of different shades and colors, he tends to stick with those which are rich and relatively neutral; charcoal grey, navy blue etc. The suit is such a huge part of Trump's appearance it should come as no great surprise that he wears them so often; after all, they provide the perfect frame for his ties.
Trump's Ties
While Trump's suits are certainly attractive enough in their own right, it's the ties he wears that truly take his appearance to the next level. Trump is known for wearing ties that feature a bright colors; cornflower blues and sunny yellows, for example. He is also quite partial to the "power tie," as he can be very often seen wearing ties that feature deep, rich shades of red. His favorite tie color however, is the solid pink necktie.
The celebrity is no stranger to patterns either, as even though he tends to gravitate towards solid ties, he can very often be seen wearing those which feature wide horizontal stripes or tight geometric patterns. As he should, Trump uses his ties to accent his appearance and break up the subtlety of his suits. Just don't expect Trump to show up in a bow tie, as neckties are almost always his first choice.
Takeaways for the Modern Man
It's important to understand that just because Donald Trump is exceedingly wealthy doesn't mean one needs to be in order to take hints from his style. The name of the game here is to stick with colors that will make even the most drab suits "pop;" pastels and other bright colors can be very effective. Trump's ties also tend to be relatively wide, so avoiding the skinny ties that have become so popular as of late may be a wise choice if you're going for this look. Experiment with different styles to see what works best for you. On a final note: While Trump prefers brightly colored ties, keep the season in mind before wearing the signature Donald Trump pink tie. Use brightly colored ties in spring and summer. For the Fall and Winter season choose ties that are a bit more muted. For more information on pink ties, I suggest you read my article titled "Matching a Pink Tie.