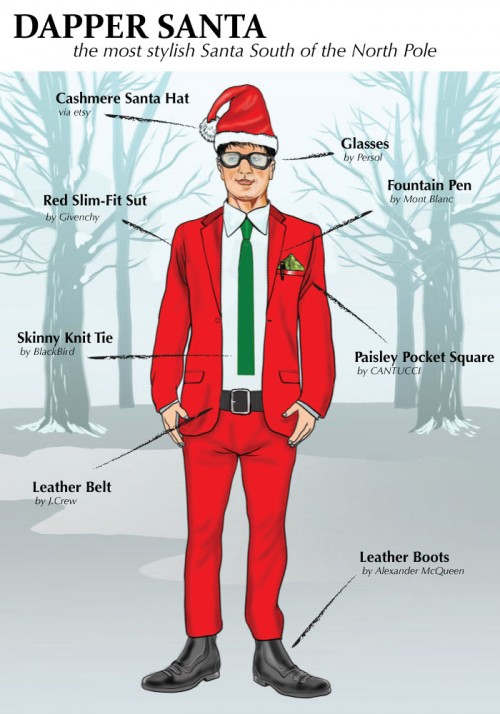 With all the ugly Christmas sweater parties happening all over the country, I thought it would be time to infuse new dapperness to the Holiday season. Santa is no longer a fat, white bearded man sitting inside a crowded mall. He is in fact a stylish dude strolling the streets of New York, inspiring men to dress better.
It all started after I found this red suit by Givenchy. The triple monk-strap boots by Alexander Wang shortly followed. Add the a trendy knit tie, Persol glasses, and a few other key accessories and you have the most stylish Santa south of the North Pole.
Find the Pieces here:
1. Cashmere & Lambs Wolle Santa Hat via Etsy – $33
2. Red slim-fit Suit by Givenchy – $859
3. Skinny Knit Tie by BlackBird – $18
4. Fountain Pen by Mont Blanc – $635
5. Leather Belt by J.Crew – $98
6. Monk Strap Boots by Alexander McQueen – $850
7. Paisley Pocket Square – by CANTUCCI – $18
8. Glasses by Persol – $216
HAPPY HOLIDAYS!
Hendrik
Tie Aficionado & Tie-a-Tie Founder