A closer look at all common bow tie styles, along with tips on how to best wear them
Just like there are different necktie styles, there are quite a few different styles of bow ties. The main difference lies in cut, size, and fabric. Below I am discussing each style and give you some tips on when/how to best wear it. Last but not least, I added a few images of some of my favorite bow tie looks ranging from casual to strictly black tie. Enjoy!
Cut:
The biggest difference here lies in the spread of the bow (horizontal size) as well as the shape of the tips. Usually the spread of the bow tie needs to be proportionate to the rest of your outfit, meaning larger butterfly bow ties usually look best with wider lapels and/or double breasted jackets. Here are the four most common bow tie cuts:





From left to right: bow tie with pointed ends, batwing bow tie, classic (aka Thistle) bow tie (usually: 2″ – 2.5″ spread), butterfly bow tie (usually 2.75″-3.5″ spread)
Fabrics & Texture:
Most bow ties are made from silk, but that is not to say that there aren't other choices out there. For the summer cotton is an excellent fabric that combines nicely with typical summer patterns and colors (seersucker, pastel tones, and multi colored checks). Another fabric that is a must mention is velvet. Bow ties made from velvet were popular in the late 50's, and until recently, had vanished from the fashion scene. Today velvet bow ties are back in style. They can be seen on black tie aficionados like George Clooney as well as dapper dudes embracing New York streetstyle. Last but not least fabric textures can add a huge amount of diversity to your bow tie collection. From subtle ribbed textures, worsted wool (winter), formal pique (popular for white tie dress), and many more.
Lengths:
Most self-tied bow ties can be adjusted in length usually fitting a wide range of neck sizes. Fixed length bow ties do exist but should only be bought if you have the chance to try it on. The benefit of the fixed length: the bow tie spread is cut in proportion to your neck size, and they do look nicer when worn with a wing tip collar (check out my dress shirt collar guide for more info).
Some of my Favorite Bow Tie Looks:
Because pictures are worth a thousand words, here are a few examples of some great bow tie looks. For more bow tie matching inspiration, please check out this board on Pinterest:
Velvet bow ties are back in style! George Clooney did a nice job pairing a modern velvet bow tie to your formal black tie ensemble.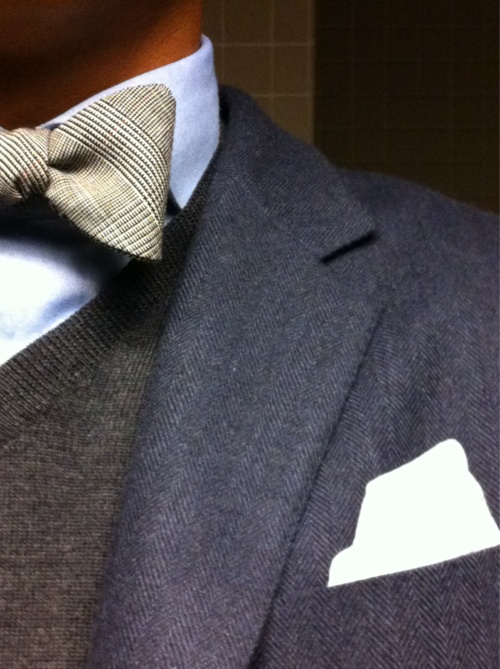 A perfect look pairing a glen-check patterned bow tie with a fine herringbone textured blazer and a V-neck cashmere sweater. A perfect combination of color, pattern, and texture.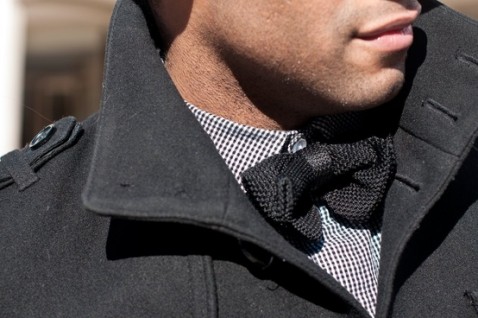 Something quite unusual but very stylish are so-called Grenadine bow ties. The unique fabric texture paired with the larger butterfly bow tie makes this a stand-out accessory. Nicely paired with charcoal trench coat and checkered shirt.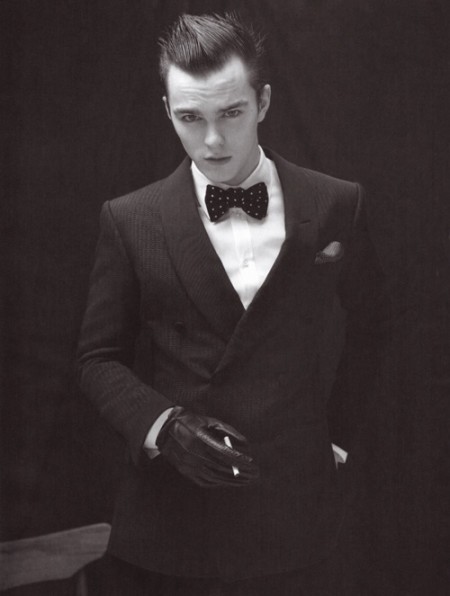 Who said that "black tie" bow ties have to be solid in color? A nice combination of polka dot bow tie paired with double breasted tux.
Thanks for visiting my blog.
Hendrik
Tie-a-Tie.net