The Dapper Dude VS Casual America
Yesterday the folks over at Ties-Necktie.com e-mailed me about a game they created titled "The Dapper Dude & His Fight Against Casual America". Curious about this, apparently "addicting", flash game I stopped by the site and started playing. An hour later I finally said "good enough", and posted my score of 17,395 which landed me the 7th overall highest score. I don't expect to be in the TOP10 for long since this game apparently just went live earlier this week. But for now I am bragging about being in the TOP10. CLICK HERE to play this game.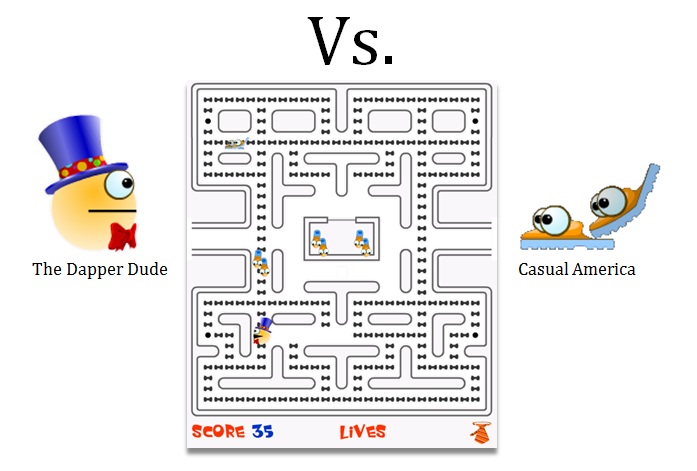 The premise of this PACMAN-like game is the fight of formal/dapper against casual/sloppy. As a tie aficionado, and someone that cares about fashion and style, I love this concept. The character Dapper Dude wears a top hat and a stylish bow tie. It is his mission to collect all the black bow ties and to beat the sandals (casual America). The game is simple, entertaining, and unfortunately also somewhat addicting. =)
Weekly Highest Score Wins $100
This week's current high score of 31,870 is quite a reach for someone that has never played a PAC-MAN like game before, but my guess is that sooner or later some PACMAN pro will find his/her way over to the "Dapper Dude' game and post a 6-digit score. Good news is that Ties-Necktie.com will be giving out $100 in store credit for each week's top score.
How to Win?
The answer is simple: Score lots of points and be the #1 for the week. From my one hour playing time I figured out a few things that will help you rack up a respectable score after only a few tries. The most points are given out if you eat the sandals after collecting one of the four dots. The first sandal gets you 200 points, the second 400, the third, 800, and the fourth, 1600. So in theory you can score 12,000 points on the first level from eating sandals alone. Also, should you be able to eat all four sandals twice in a row, you will receive another life as a bonus. As a final tip: Watch out for the sandals that come out of the "safe zone" which will be lethal to Dapper Dude. Give it a try. I bet you will be hooked.
Cheers,
Hendrik