Fred Astaire Makes it Onto #9 of My Top10 Famous Tie Wearer List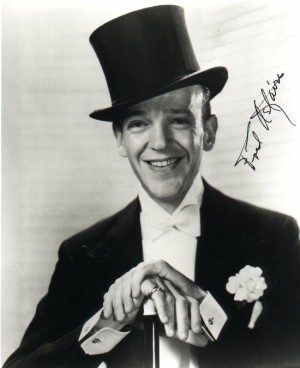 There are certain names that, when uttered, immediately begin to conjure up images of fashion and style. Cary Grant, for example, is a style icon if there ever was one, and has gone down in history as being one of the most fashionable male celebrities of all time (in addition to being the 6th most famous tie wearer). The same can be said for Fred Astaire, whose name has become synonymous with style and class to this very day. Astaire took an approach to style that many people in today's world might have a hard time relating to, if only because the way he dressed was practically the opposite of the more casual lean that is often by modern men. This being said, the celebrity is a great example of how effective it can be to go the extra mile and put some work into one's appearance, and a lot of this comes from his choice of ties. Consider all of the following about Fred Astaire, as you may find that you'd like to incorporate his look into your own appearance.
Style and Formality Above All Else
It's not uncommon for men today to get exceptionally nervous when they have to dress up for a formal event. (If this is you, then please see my guide on Black Tie). Fred Astaire, on the other hand, was more comfortable in a suit than anyone could ever be, and made the look his very own in short order. His approach towards suits was to wear those which were relatively dark in color and featured a very slim fit. Pinstripes and wide lapels were huge parts of Astaire's look, as was the corsage. Astaire basically did everything he could to look his best, and rarely failed. He was also known for having a penchant for wearing a variety of different types of hats; Panama hats, bowlers and top hats were just a few of his favorites. Regardless of what he was up to, Fred Astaire could always be seen looking dapper.
Astaire's Ties
One of the most important things to understand about how Fred Astaire chose his ties was that he almost always went with pieces that were relatively slim for the time. The combination of slim tie and wide lapel can be very attractive and create a nice sense of contrast; something Fred Astaire surely took into consideration when putting his look together. While he often wore solid ties, Astaire was also known to wear relatively eye-catching patterns as well, which he would typically try to match with the perfect pocket square. Neckties were definitely Astaire's preferred style of neckwear, although his extra-formal ensembles would very often include either a black or silver bow tie.
Takeaways for the Modern Man
There are plenty of things that modern men can take away from Fred Astaire's approach to style and fashion. The combination of narrow tie and wide lapel, for example, could serve to be very attractive in the modern world, and doesn't get utilized nearly enough. In fact, most fashion experts, including myself, suggest that skinny ties are paired with proportionately sized narrow lapeled suits. While this may be the norm for a J.Crew look, there is something to be said about being bold, and challenging wardrobe rules. Thus, I suggest you give it a try: Pair a slightly slimmer cut tie with wider lapel suit. For more tips please see my guide on How to Tie a Skinny Tie
Last but not least, take note of Astair's approach to formal way. Formal dress truly has a time and place, and just because you can dress casually doesn't mean that you should.