The Top 8 Fashion Mistakes Men Make When Wearing a Tie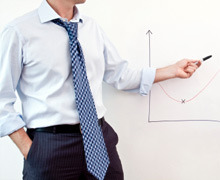 On my way to work this morning I noticed a man wearing a Halloween themed necktie displaying one large white ghost surrounded by grinning pumpkins. As a tie aficionado it was, needless to say, a pure eyesore. Even though we are approaching Halloween, novelty ties are are always a fashion faux pas in the business world. While I have been writing quite a bit on "How to Wear a Tie", my experience from this morning inspired me to dedicate a post to "How to NOT Wear Your Tie". Here are, in order, the eight worst mistakes any man can make when wearing a tie:
#1: The Poorly Tied Tie
As someone how started a site on how to tie a tie it seems quite obvious that I would consider a poorly tied necktie the worst offender on this list. Mistakes include: a tie tied to short or too long, a flimsy looking knot that does not fill the gap between the collar, or a knot that shows any part of the narrow end of the tie.
#2: Too Shortly Tied Necktie
A tie should be tied so that it ends near the middle of your belt buckle. A tie that has been tied too short will throw of the entire look. There is no excuse for it! Even for tall men, most designers offer longer length ties. Check out my Tie Length Calculator to find out whether or not you should be buying XL sized ties.
#3: Kitschy Novelty Ties
My experience from this morning reassured me that novelty ties belong towards the top of this list. By novelty ties I am referring to any "big picture" tie. The only exception I make for wearing novelty ties (although I still wouldn't) are certain holidays such as 4th of July, St Patrick's Day, Christmas, and National Bow Tie Day (yes it does exists!)
#4: Clashing Colors & Patterns
So many men choose the wrong tie color and/or pattern for their outfits. In terms of color, choose a shade that compliments your shirt and suit. In doubt wear a dark navy, or charcoal suit, and a white dress shirt as any color tie will compliment. For more information please check out my article titled "Matching Tie Colors to Your Personality"
#5: Wrinkled and/or Stained Neckties
The necktie is usually the focal point of your ensemble. Thus, a wrinkled or stained necktie is immediately noticeable. While ties can not be washed or ironed (because doing so damages the inlay and drape of the tie), I suggest you always untie your necktie after each wearing. Hang your ties on a tie rack or over a hanger and the fabric will straighten itself out over night. I also suggest you rotate your ties, and never wear the same tie two days in a row.
#6: Wrong Tie Width
The tie width you choose must be proportionate to your body type, dress shirt, suit, and tie knot. Yes, skinny ties are trendy, but they will look out of place if worn with a boxy cut, wide lapeled suit. For more information, please check out my Tips on Skinny Ties
#7: Choosing the Wrong Tie for a Particular Dress Code
Yes, there are indeed some dress codes and occasions that will require you to wear a particular style of tie. A perfect example here is the formal black tie dress code (requiring you to wear a self-tied black bow tie), as well as the even more formal white tie occasion (white self-tied pique bow tie).
#8: Accessory Overload
Common necktie accessories are tie-clips and bars, tie pins, and tie chains (click here for more info). While a tie bar can be a perfect addition to your look (especially when paired with solid skinny ties), you want to keep these types of necktie jewelery sleek and elegant. Tie pins, chains, and collar bars are no longer in fashion and should be avoided.
Avoid these 8 common tie mistakes and, do me the favor, point them out to the worst offenders at your office. Want to avoid a possible awkward confrontation? Then print out this article and post it in your company's break room (you may want to check with HR before doing so…) =)
Thanks for reading!
Hendrik