Pee Wee Herman is the 7th Most Famous Tie Wearer of the Past Century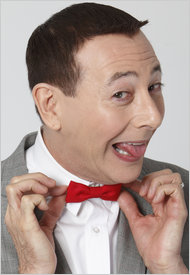 #7 of my Top 10 Most Famous Tie Wearers is Pee Wee Herman. When it comes to characters that have had a lasting impact on the entertainment industry, there are few names that come to mind in the same way as Pee-Wee Herman. Portrayed by acclaimed actor Paul Reubens, the "comedian who could never make it" took starring roles in both film and television, and soon went on to become a household name as a result of Pee-Wee's Playhouse, a popular children's television show. Much of what made Pee-Wee Herman so instantly recognizable was his appearance, which was unique to the point that it'd be next to impossible to confuse the character with someone else; it was the bow tie, though, that truly made Pee-Wee Herman so recognizable. The following are just a few things to learn about the look of this iconic character, much of which made the character who he is.
Pee-Wee's Formal Look
Throughout a great deal of the character's career (especially in the early years), Pee-Wee Herman was known for wearing a grey plaid suit, which was originally borrowed from Reuben's comedic colleague Gary Austin. The suit was well-tailored, featuring notched lapels and a perceived texture that really made the character stand out. Pee-Wee Herman would usually accent the suit with a white pocket square, as well as a crisp white dress shirt that featured an extremely stiff collar. Many people dubbed this Pee-Wee's "formal look," although it should be noted that this was the look that the character embodied 90% of the time he was in the public eye; even at awards shows and interviews.
The Red Bow Tie
While Pee-Wee already had a look all his own, it was his small red bow tie that pulled everything together and made his appearance what it was. This was the only piece of neckwear that Herman wore, and was characterized by its bright, attention-grabbing solid-red color. The bow tie was originally given to Reubens by an acquaintance of his, who quickly determined that it would be a huge part of his character's look. One of the things that makes the tie stand out is its size; it's much smaller than a typically bow tie, yet it adds balance to the character's appearance when up against the slim, well-tailored suit that characterized his style. Without the red bow tie, it's safe to say that Pee-Wee Herman simply wouldn't have looked anywhere near the way he's come to be remembered.
Takeaways for the Modern Man
It's true that Pee-Wee Herman was a unique looking character, but most men would agree that he was just that; a character. Trying to copy this look and pull it off will, for the most part, not do anyone any favors. That said, you can learn a lot about the way Herman wears his bold bow tie with a subdued grey suit; the contrast that this creates is perhaps the most important aspect of his look. Contrast can be very effective in an ensemble, and you can utilize a similar method to create it in your own outfits. Just be sure to avoid going too far with it, as Herman's look is exemplary of what too much contrast can do to an ensemble. On a final note, Pee Wee Herman didn't bother learning to tie his own bow tie, but instead chose a clip-on. My tip: Unless it is part of a costume, never step out of the house with a pre-tied bow tie. If you need help, I created a tutorial on How to tie a bow tie
Thanks for visiting my blog!