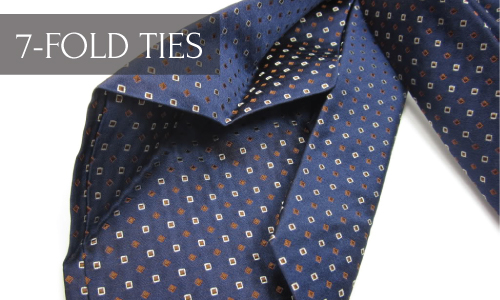 As a tie connoisseur I sometimes forget that the term "7-fold" in regards to neckties may be a bit confusing to most tie wearers. In fact most men don't pay too much attention to the way their neckties are made. Instead it is the color, pattern, width, and designer brand that usually gets the most attention. Keep in mind however that even expensive designer ties can be poorly made. I have seen $80 ties made from cheap synthetic polyester for instance. So instead of just using these four shopping criteria, I also suggest you add the tie's fabric and the tie's construction to the list.
What is a 7-Fold Tie?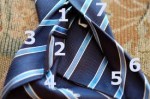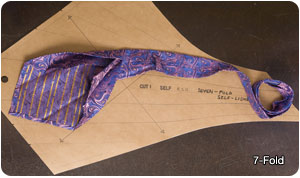 The term 7-fold refers to how the necktie is constructed. Instead of sewing an inlay into the tie for thickness, the tie is made out of a single piece of fabric that is folded 7 times (see image left). The result: A thicker feel, incomparable drape, a larger looking tie knot, and a more hefty weight – all things you will immediately notice the first time you hold a 7-fold tie in your hand.
How to Make a Seven Fold Tie?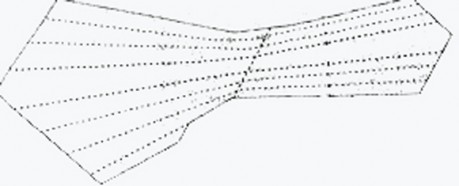 Yes, you can indeed make your own seven fold tie. What you will need is a suitable fabric (woven or printed silk is best), a sewing machine, a good pattern (see image), as well as lots of patience.
First, print out this free 7-fold necktie pattern which will make a necktie that has a standard width of 3 1/4 inches. I had a difficult time finding a free pattern online. Thus, I decided to create this one myself. You can be sure this pattern works, because I created it by taking apart one of my 7-fold ties and tracing all the folds.
Because this pattern is quite large, you will need to print it on several 8.5 x 11 inch pages and tape them together. Simply open this PDF File. Then in your printer setting make sure that "print to actual size" is selected. That's all you have to do. Once you printed the pattern, you can double check the dimension by measuring the test square that I have put on the file. The test square should measure 4″ x 4″.
After you have printed your pattern, and have selected your fabric, you can follow these excellent instructions on making your own 7-fold necktie. The instructions worked great for me and I am sure they will for you as well.
My Favorite Brands

If you rather buy a 7-fold tie than trying to make one of your own, then be prepared to spend some money. Most seven fold ties will cost between $150 – $300 each. Some of my favorite brands are Borelli ($150-$200) which makes beautiful stripes and foulard patterns, Marinella ($250+) an Italian boutique designer that has apparently dressed many men in the oval office including Bill Clinton and Bush, Turnbull & Asser ($100-$150) the famous men's clothier located at London's Saville Row, and last but not least the Italian brand Kiton ($200 – $300).
Thanks for Reading my Blog.
Hendrik