Arts & Crafts Ideas Using Old Neckties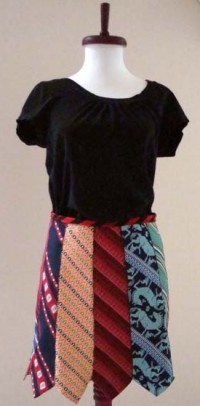 The other day I looked through my tie collection and found a few dozen pieces that I had not worn for quite some time. Certainly I could donate them to a local goodwill, which I have done before, but the pile of old ties made me curious if there could be some other good uses. After all, most ties are made from finest silk and often display fun patterns, have interesting fabric textures, and show nice colors. After browsing dozens of Arts & Crafts blogs I found some ideas for your old neckties. Here are five Arts & Crafts projects for your old ties.
1. Make a Quilt
Probably the easiest of the five projects listed here is making a quit out of your old ties. You will need at least a dozen ties, a sewing machine, and some flannel fabric for the lining. Because a standard tie is about 58 inches long (untied), the fabric has the perfect length for making a quilt. First, start out by cutting the stitching of the tie. Then unfold the necktie, and remove the inner lining. Next, sew the different fabric pieces together. The wide end of the tie should connect with the narrow end of the next. Finally use the flannel fabric for the lining of the blanket.
2. Silk Scarf
To avoid pattern over-load, I suggest you only use one tie for making a men's silk scarf. First, cut the stitching of the tie. Then fold the tie open and remove the inner lining. Your fabric piece should now be about 58 inches long and 4 inches wide at the narrow end. Cut the fabric piece to be a rectangle in the size of 50 x 4 inches. Finally, take some fine cashmere fabric (pick a classic color such as navy or gray), cut it to the size 50 x 4 inches, and sew it onto the silk as a inner lining.
3. Couch Pillow
Looking for a more challenging project? Then making a pillow out of your old ties might be right for you. I have not tried this, but I found some pretty good instructions HERE.
4. Tie Skirt or Kilt
Another more ambitious arts and crafts project using your old ties is making a tie skirt. You will need about 12 to 15 ties for this project. The best instructions I could find for making a skirt out of old neckties can be viewed HERE.
5. Necktie Bag
Probably the project that will require the most sewing skills is making a tote bag from your old neckties. It appears to be quite a popular crafts project and I found a handful of decent instructions. The best ones I could find can be viewed HERE.
If you don't have any old ties but still like to try one of these projects, then I suggest you contact our partner Bows-N-Ties.com for damaged ties. I am certain they will be able to help you out!
Thanks for visiting!
Hendrik