James Bond is the 2nd Most Famous Tie Wearer of All Time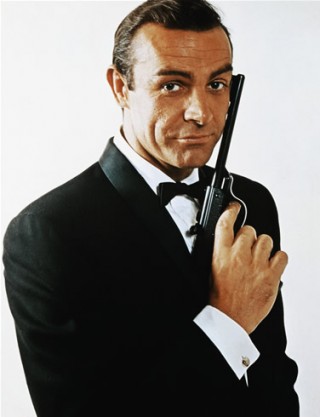 Some characters are created for the sole purpose of being timeless, yet simply fade away within a few years. After all, the public tends to crave "newness," which causes certain characters to simply fall through the cracks. That being said, there are some film and television characters that become instantly classic, and are destined to withstand the test of time; James Bond fits nicely into this category. The British secret agent has been portrayed by a number of excellent actors over the years, yet his overall style has remained the same since the character first made it into the public eye. Sleek and sophisticated, James Bond's look is truly the embodiment of British style and class, and is a huge part of what has made the character so popular and timeless. His bow tie is certainly a big part of his look, along with the following elements of what makes James Bond who he is. All this convinced me to put Mr Bond on the #2 spot of my "Most Famous Tie Wearer" list.
The Tuxedo
Being the subject of over 20 films, it should come as no surprise that James Bond has donned a great deal of different outfits over the years. This being said, the character is most famous for his approach to wearing a tuxedo – aka Black Tie Attire. The tux is an incredibly important part of Bond's look, and has a huge impact on how he appears on screen. Bond's tux has gone through a few changes over the years, with buttons/cuff links added/removed, but the general look and feel has remained the same. The character prefers tuxedos that feature wide lapels, often pairing them with stark white pleated dress shirts. The classic tuxedo is an ensemble that every man can benefit from experimenting with, and Bond would never have gotten his "look" without it.
The Bow Tie
The bow tie is a huge part of James Bond's look, and he simply wouldn't be the same character without it. Bond's bow tie is about as classic as it gets, characterized by its midnight black color and very "present" appearance in his ensembles. It's interesting to note that the character's bow ties have changed in size and appearance over the years to a rather dramatic extent. Sean Connery, for example, wore a relatively small, thin bow tie (aka Batwing bowtie), while Roger Moore's bow tie was oversized (aka Butterfly bow tie) to the point of being perhaps a bit too big for the ensembles he wore them with. Today's James Bond sports a modern, more moderately-sized bow tie that perfectly fits in with his tuxedos, resulting in a look that can only be described as classy. Whatever the style was, James Bond never wore a tacky clip-on bow tie, but instead tied his own bow tie. For instructions, please view by Bow Tie Knot page.
Takeaways for the Modern Man
There is quite a bit for the modern man to take away from how James Bond approaches fashion. Perhaps most important is to realize that the importance of looking good should not be underestimated, and that wearing a tuxedo from time to time can do a great deal for one's overall appearance. Indeed, Bond wears the tuxedo with such confidence and class that it wouldn't be surprising to learn that he sleeps in it. Stick to a modern-cut tuxedo, avoiding bow ties that might be considered to be either too small or too large. Ideally you choose a bow tie that is proportionate to your body type, and, possibly even more important, proportionate to your jacket's lapels. For best results, you should strive to work with a tailor who can help you to find the look that is right for you, as choosing formalwear often be rather tricky.
Thanks for visiting my site teaching men to tie a tie.